South Korea's main blockchain startups are joining hands to push for IEO (Initial Exchange Offering) in foreign countries.
'Global Meetup in Singapore', which was hosted by a cryptocurrency exchange called BCoin, was recently held in Singapore. Many South Korean startups such as ShieldCure and others attended this event and they were able to attract investments and contracts with 10 institutional investors and 60 investment groups.
BCoin is FIAT cryptocurrency exchange approved by Monetary Authority of Singapore (MAS) and it is a subsidiary of Coinsuper, which is a Hong Kong-based cryptocurrency exchange ranked top 10 in the world.
South Korea's main blockchain companies are currently pushing for IEO as current trend is shifting from ICO to IEO. At this event, South Korean startups also presented their projects and had drawn interests from foreign investors.
There were visible results such as contracts worth millions of dollars between foreign investors and South Korean startups. There was a time of network on the next day following this event with VIPs and investors from Singapore. Genesis Block, Venture Partner, Vision Capital, and BlockOn participated in the event and presented their topics.
ShieldCure had a presentation about forming an IEO ecosystem and had drawn interests from investors. ADARX introduced about its cryptocurrency exchange that is expected to be opened this month and its strategies for supporting IEO.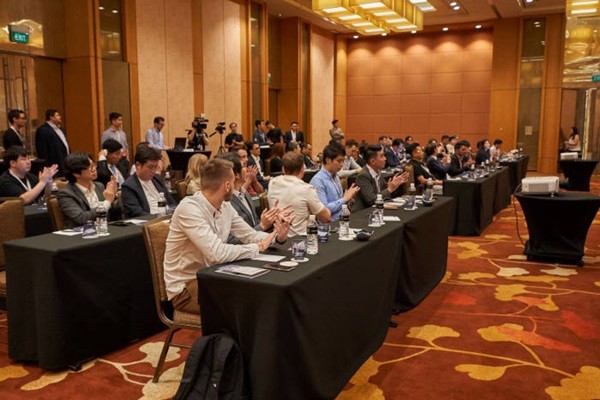 FABOT, which is the top South Korean company in a field of robo-advisor, presented new blockchain trading and service models through AI (Artificial Intelligence) under a topic 'Stock AlphaGo to Blockchain AlphaGo'.
DATAM introduced a blockchain project related to carbon emission and had drawn huge interests by presenting solutions that can solve carbon dioxide emission problem through blockchain.
LIKERWORLD introduced about blockchain-based education and donation platforms. It is going to provide education opportunities to teens through global sharing education and donation policies based on SNS platform (Dapp). People will obtain tokens as compensation for using its platform and they can exchange tokens with LK Coins, which are payable coins that can be used to pay for teaching materials and other goods that are needed for one's studies.
Besides these projects, prediction-based blockchain business model called Kerasios and many other foreign projects were also introduced at this event.
"We are going to form a crypto-fund worth $600 million through major Singaporean institutional investors and invest into promising blockchain startups starting from next year." said CEO Davy Goh of BCoin. "We are also going to strengthen our relationship with South Korean partners such as Shieldcure and IEON."
"We are going to help many South Korean startup companies with their plans of entering foreign markets by looking for outstanding IEO projects, strengthening global network, and expanding crypto-funds." said CEO Kim Tae-bong of Shieldcure.
Staff Reporter Gil, Jaeshik | osolgil@etnews.com