Viva Republica Toss, which has about 10 million users, will be the second payment provider followed by KakaoPay to withdraw from demonstration project of Zero Pay. It has decided to postpone its participation of demonstration project of Zero Pay, which is expected to start on the 17th of December.
Although it is saying that it physically lacks development period that is necessary to link its business to Zero Pay, it is likely that Viva Republica Toss has decided to withdraw from demonstration project of Zero Pay because Ministry of SMEs and Startups (MSS) could not reduce charging (firm-banking) fee), which is the biggest issue for simple payment providers at the moment. Also, MSS is practically allowing only direct payments centered on commercial banks and is not allowing money that is stored within prepaid electronic payment methods of electronic financial companies to be used in Zero Pay. These companies are taking strong opposition by saying that they were practically notified from MSS not to participate in Zero Pay.
Other top simple payment providers have also started to rethink about participating in Zero Pay project due to unfair business structure.
According to information communication and financial industries, Viva Republica notified MSS about not participating in demonstration project of Zero Pay.
Previously, MSS announced that 18 commercial banks and 10 simple payment providers would be participating in demonstration project of Zero Pay. Some were expecting that participation of Toss, which has young men and women take up 90% of its users, would be a catalyst in expanding universality of Zero Pay.
However, MSS has decided not to allow money that is charged within pre-payment businesses to be used at franchise stores. Basically, it is allowing only money that is deposited into bank accounts to be used.
In that case, pre-payment businesses need to set up separate 'firm-banking account for Zero Pay' by separating institutional codes. Their pre-paid money cannot be used for Zero Pay and their balances cannot be linked to Zero Pay as well.
They also need to develop every connection from scratch just for Zero Pay.
Simple payment industry criticized MSS' decision by saying that it is difficult to provide consumers with benefits for saving that comes from using Zero Pay and it will not be possible to use money that is stored within prepaid wallets for Zero Pay.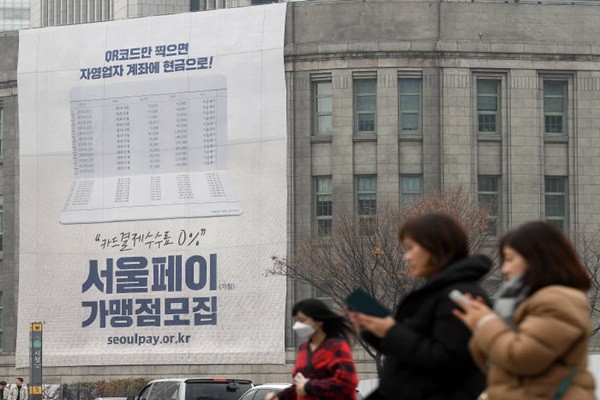 Firm-banking fee issue has not been solved yet either. Because commercial banks are leaning towards levying firm-banking fee, simple payment providers need to pay firm-banking fee that costs hundreds of Won per case to commercial banks. This will cause enormous amount of financial damage to simple payment providers.
With demonstration project of Zero Pay is set to start next month, MSS has yet to solve problems between people involved with firm-banking fee. As a result, there is a high chance that demonstration project of Zero Pay will end up as an incompletion due to lack of development and preparation periods.
Although other large businesses such as Naver and others have started working on connection with Zero Pay in a great hurry, it is likely that they will not be able to establish appropriate connection with Zero Pay according to timing of demonstration project.
Commercial banks are also not too fond of Zero Pay project as they are participating in this project forcefully by South Korean Government. Number of commercial banks that are participating in demonstration project through their own applications is very small except for ones that are operating a joint bank application called 'Bank Pay', which is operated by Korea Financial Telecommunications & Clearings Institute (KFTC). Although it may seem that number of participating companies in demonstration project is a lot, almost none of them is providing actual services. As a result, there is a high chance that there will be conflicts about responsibilities.
Relevant industries agree that the main cause of these problems is the fact that MSS and local governments that do not have knowledge in payment markets and rights to adjust fees are leading Zero Pay project.
Most of them believe that FSC, which has rights to adjust fees, needs to establish measures for vitalizing simple payment industry and force them to Zero Pay to prevent any confusion.
Just by looking at firm-banking fee, credit card companies pay banks 0.1% fee (fixed rate) when there are payments made by check cards while simple payment providers pay banks between $0.18 and $0.36 (200 KRW and 400 KRW) in fee (fixed amount) per pre-paid payment. Level of difference in positions by interest groups is still wide apart.
There is also a chance that demonstration project will fall apart as main businesses are either starting to withdraw from it or participating in it as mere formality.
"Alternative will be for FSC to adjust fees and correct firm-banking issue." said a representative for a participating company of demonstration project. "Best solution will be to develop Zero Pay using KFTC's APIs and to reduce fee to the level of production cost."
"It is true that Toss will not be participating in demonstration project." said a representative for MSS. "We are goint to prepare solutions for firm-banking fee issue and others as soon as possible."
Staff Reporter Gil, Jaeshik | osolgil@etnews.com