KB Card (President Lee Dong-chul) established 'Data Open Lab' to combine and analyze various data from private companies and public organizations and to look for Big Data-based business opportunities.
Data Open Lab, which is inside of Tower 8 in Jongno-gu, is a space to combine Big Data from various industries and to strengthen cooperation between universities and industries.
Data Open Lab, which looks for new values of data, allows anyone to find new business models through data analysis and convergence.
24 companies such as KB Card, data companies (Korea Information & Communications Co., NICE Information & Telecommunications, B2EN, and 2E Consulting), and marketing companies (LG Electronics, Hana Tour, and TMON) and universities (Seonggyungwan University, Soongsil University) are participating in Data Open Lab.
Data Open Lab provides research space and various instrument and programs for data analysis and convergence for participating companies and organizations. They can utilize KB Card's data, data from franchises, and various public data that had been scattered for analysis.
KB Card is expected to share information related to data analysis and convergence through cooperation with data analysis experts.
KB Card has also prepared infrastructures and strict regulation standards to obey various laws such as Personal Information Protection Act and to enhance data security. It set up ZeroPCs that do not have Cloud-based desktops and a system that automatically filters personal information.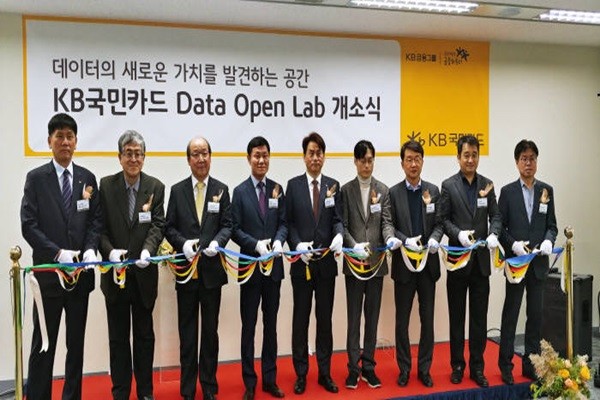 KB Card's internal data and external data such as data from private companies and public data will be mutually separated and stored. Entrance to Data Open Lab will be limited to people with access.
At first, KB Bank is going to perform convergence and analysis of various external data that can be used in accordance with relevant laws and look for business opportunities based on Big Data.
When Big Data-related laws and systems start to support Data Open Lab, KB Card is planning to combine various data from cards, various statistics from public organizations, and sales information from private companies and develop and sell Big Data-based products and services such as estimation of franchises' sales, consulting on analysis of consumption, analysis of commercial supremacy's effects, and consulting on establishment of marketing strategies on full-scale.
KB Card is planning to connect Data Open Lab and 'Big Data brokerage and transaction platform', which has been promoted by KB Card since last year, to connect buyers and suppliers of Big Data and allow Big Data to be actively exchanged.
"We are planning to provide various efforts and support so that we can develop South Korea's Big Data market and ecosystem, which are still in their beginning stages, and establish Big Data as a new driving force for card issuers." said a representative for KB Card.
Staff Reporter Gil, Jaeshik | osolgil@etnews.com