Korea Minting, Security Printing & ID Card Operating Corp (KOMSCO) is introducing mobile gift certificates based on blockchain platforms. Its plan is also to invigorate direct payment ecosystem based on QR code.
KOMSCO introduced 'KOMSCO trusted platform' at The Korea Chamber of Commerce & Industry on the 25th.
This platform is a comprehensive security solution that prevents forgery and falsification of online information and transactions through blockchain operating system and security medium issue system. It uses LG CNS' 'Monachain' as its main (core) platform. KOMSCO is also planning to introduce local electronic currency service, mobile authentication, and document authentication service in the future.
As its first project, KOMSCO is pushing for 'mobile hometown gift card' with Ministry of the Interior and Safety (MOIS).
When a local resident scans a QR code through an application and goes through PIN code authentication, a payment worth a gift certificate takes place. When this service is implemented on full-scale, it is expected that biometric authentication such as fingerprint authentication will be made available as well.
Just like current local gift certificates, consumers receive 40% deduction. KOMSCO is planning to set commission rate to be lower than that of direct payment cards (0.3%~1%). It is expected that affiliated stores that receive credit cards (2.1%) and check cards (1.6%) will face lesser financial burden as a result.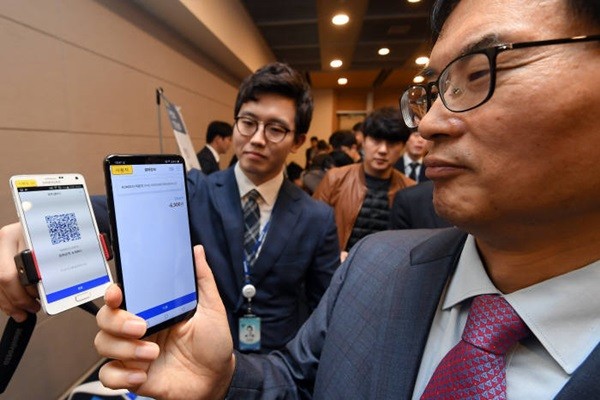 Breakdown of transactions that occurs through a QR code is stored within blockchain platform. As a result, it will be impossible to forge or falsify information and ledgers of transactions will be made transparent.
KOMSCO has enhanced security by adding 'Q-shing (QR code + phishing)' and it attached a 3D film, which prevents artificial changes, on top of a QR code. A QR code is completely damaged once this film is detached from it.
This project will be introduced first in Siheung-si next January. Gift certificates can be used at about 3,000 affiliated stores in Siheung-si. KOMSCO is also discussing with other local governments about this project. It is going to perform pilot projects from January until June of 2019 and carry out this project on full-scale starting from July.
Because this project is MOIS' project, it is irrelevant to 'Zero Pay' project by Ministry of SMEs and Startups and Seoul-si. It is also undecided whether QR code standards set by The Bank of Korea's Financial Information Promotion Committee will be applied to this project.
"We have focused on implementing public creativity, providing blockchain-based mobile gift certificate service, and building cooperation between large corporations and small and medium companies." said President Cho Yong-man of KOMSCO. "While contributing to establishment of trusted society through product guarantee technologies, we are also going to protect and prove values of properties."
On this day, KOMSCO also demonstrated various falsification and forgery prevention technologies such as 'water meter security module' that applies encrypted security technology to water meter, injection molding-type 'special induced plastic' that inserts special security substance into plastic material, 'latent image printing technology' that shows words in different ways based on how they are looked at, '4-way metallic latent image' that imprints a particular shape onto the surface of metal, and 'safe QR' that applies film-based color-changing latent image technology inside and outside of a QR code.
Staff Reporter Ham, Jihyun | goham@etnews.com