It is estimated that there will be 175,000 new jobs created within blockchain industry by 2022.
After Korea Blockchain Association (Chairman Jin Dae-jae) requested a team led by Professor Lee Byung-tae of KAIST's College of Business to analyze effects of blockchain and cryptocurrency industries on hiring, a team led by Professor Lee estimated that there will be up to 175,000 new jobs by 2022.
Professor Lee's team first looked into current status of hiring within blockchain industry. By end of June, about 7,900 people were hired by companies related to ICO (Initial Coin Offering) and blockchain while 2,200 people were hired by cryptocurrency exchanges.
Based on this, Professor Lee's team then looked into how hiring's situation will change depending on South Korean Government's policies.
Out of 9 global market research companies, Grand View Research had the most conservative estimation on growth rate of blockchain industry at 37.2% while Market & Market had the most optimistic estimation with 79.6%.
In case of Grand View Research's estimation, number of new jobs will be 35,800 if current regulations continue. But, this value will change to 59,600 if there are political supports such as allowing ICO and promoting cryptocurrency exchanges.
In case of Market & Market's estimation, numbers of new jobs under government regulations and under government support will be 105,086 and 175,837 respectively. In both estimations, number of new jobs will increase by 1.7 times if government regulations become government supports.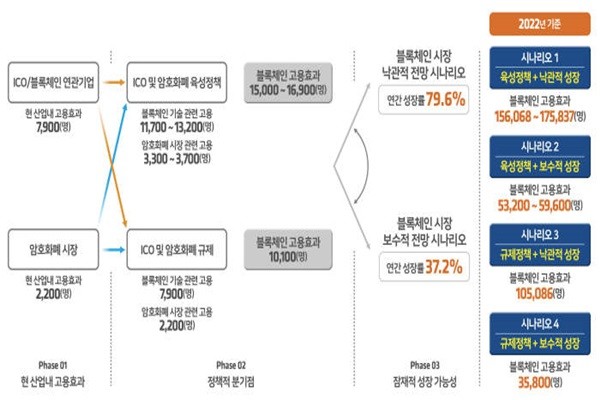 "Compared to how Jobs Committee set the number of new jobs in new industries to be 92,000, blockchain industry can create up to 175,000 jobs." said Professor Lee while suggesting the need to change government policies.
"It is impossible to separate blockchain industry and cryptocurrency industry and creating new jobs will be very limited if only private areas without cryptocurrency are promoted." said Professor Lee.
This research is meaningful from a standpoint that it is based on real data. Professor Lee's team is planning to submit its results to Korea Blockchain Association on the 20th.
"If South Korean Government continues to regulate blockchain and cryptocurrency industries, number of jobs will be even lower than what it is now due to closure of South Korean exchanges and transfer of companies to foreign countries."
Staff Reporter Gil, Jaeshik | osolgil@etnews.com