Woori Bank will be the first South Korean commercial bank to introduce a PC version of bank sign. Other commercial banks are also planning to introduce blockchain authentication to their internet banking sometime during this month at the earliest or by the first half of 2019 at the latest.
According to industries, Woori Bank recently completed preliminary work to introduce bank sign to its internet banking. It stabilized its mobile version of its internet banking that was launched in August and applied modules that are for PC banking to its current system.
Starting from now on, blockchain authentication will be available through Woori Bank's mobile banking and internet banking.
Bank sign, which is a distributed storage method, prevents forgery and falsification of authentication certificates and robbery and theft by storing personal keys into safe areas of Smartphones. Woori Bank also prevents any possibility of duplicating authentication certificates without permission through its policy that requires one person to have one Smartphone and one authentication certificate.
Woori Bank has reduced inconvenience of frequent replacement of authentication certificates and simplified a procedure of using an authentication certificate by extending expiration date of an authentication certificate from one year to three years. It has enabled another bank to use authentication certificates just through verification procedure by a Smartphone.
Korea Federation of Banks (KFB) launched mobile version of bank sign in August. 15 banks such as KB Bank, Shinhan Bank, Woori Bank, KEB Hana Bank, NH Bank, IBK Bank, SC Bank, Suhyup Bank, Daegu Bank, Busan Bank, Gwangju Bank, Jaeju Bank, Jeonbuk Bank, Gyeongnam Bank, and K Bank have applied mobile version of bank sign so far. Korea Development Bank, Citi Bank, and Kakao Bank are not participating in mobile version of bank sign.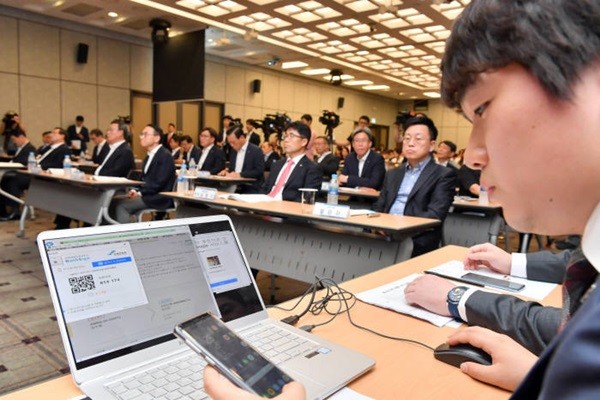 Besides Woori Bank, other 14 banks are also planning to launch PC version of bank sign sequentially. Many of them including SC Bank are planning to launch PC version of bank sign by end of this month. KB Bank, K Bank, and Suhyup Bank are planning to launch PC version of bank sign middle of this month while Hana Bank is planning to launch it at the end of this month.
Shinhan Bank, NH Bank, and IBK Bank are not expected to launch it this month. IBK Bank is planning to launch it sometime next month while Shinhan Bank is planning to launch it by end of this year. NH Bank is planning to launch it in March of 2019.
"We already distributed modules necessary for PC version of bank sign to each bank." said a representative for KFB. "However, it is likely that each bank will apply them at different times."
Until now, bank sign was only available through a Smartphone application. However, it can be used starting from this month by sending a push message from a PC to a Smartphone, inputting an authentication code into a Smartphone, and going through fingerprint authentication.
"When a PC version is launched, both mobile banking and internet banking can be used through authentication process by a Smartphone application." said a representative for a bank. "Also, when bank sign is linked to 'Chain ID', range of bank sign's utilization will be much wider."
Currently, KFB and Korea Financial Investment Association (KOFIA) are discussing about linking bank sign and Chain ID because immediate compatibility between bank sign and Chain ID is difficult as they are based on Nexledger (Samsung SDS) and Loop Chain (ICONLOOP) respectively. Thereupon, Financial Security Institute is planning to prepare 'Blockchain Authentication Connection Standards' in December.
Staff Reporter Ham, Jihyun | goham@etnews.com