Hanwha Systems, which is a subsidiary of Hanwha Group, will be third South Korean large corporation to join a global blockchain group called 'EEA (Enterprise Ethereum Alliance)'. It is looking to apply blockchain technology to financial ITs based on its own blockchain platform called 'H-Chain (tentative name)' and it is planning to expand its foreign business on full-scale starting from next year after completing pilot projects by end of this year.
Hanwha Systems (President Kim Kyung-han) announced that it has become a member of EEA. EEA, which is world's biggest blockchain network, was established to co-develop and expand business blockchain solutions and business models through Ethereum technology. It currently has 500 companies including global companies such as Microsoft, Intel, and JP Morgan as its members.
Samsung SDS had created news after becoming the first South Korean large corporation to become a member of EEA in May of 2017. This became a catalyst to cryptocurrency fever in South Korea as value of Ethereum had skyrocketed at that time. Samsung SDS is currently working on establishing blockchain platforms within its distribution businesses. SK Telecom became the second South Korean large corporation to join EEA early 2018.
Hanwha Systems merged with Hanwha S&C, which specializes in IT services, in August. Blockchain business is Hanwha S&C's one of major businesses for Industry 4.0. Currently, this project is responsible by Hanwha Systems' ICT sector.
Hanwha Systems' ICT sector has experiences in doing financial projects with Hanwha Life, Hanwha General Insurance, and Hanwha Investment & Securities and it has solutions that can respond to various financial institutions from insurance, stock, and bank industries.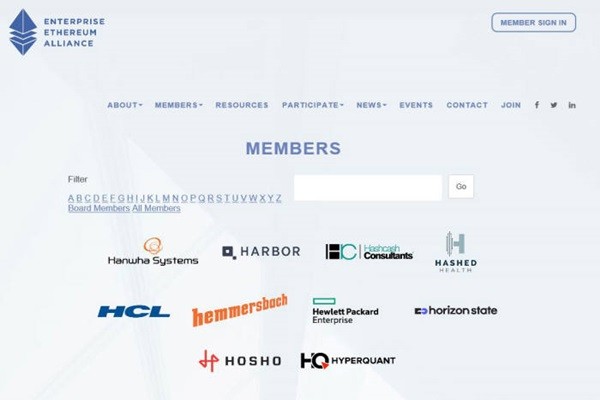 Hanwha Systems is looking to apply its H-Chain to financial services first. It explains that its strength is its knowhow in establishing and operating periodic and information systems for current financial systems within blockchain industry.
"We highly value Hanwha Systems' H-Chain and Hanwha Systems' blockchain pilot project based on H-Chain." said EEA regarding its decision to have Hanwha Systems as its member.
Hanwha Systems is looking to share various information with global businesses by becoming a member of EEA and it is also planning to increate level of perfection of its blockchain platform. It is going to establish global standards for Ethereum technology by participating in working groups and it is planning to apply industrial requirements to Ethereum technology.
It is planning to compete pilot projects for H-Chain by end of this year and carry out additional and foreign projects in 2019.
"Current blockchain industry comes down to how blockchain can be applied to different systems rather than its technologies themselves." said a representative for Hanwha Systems. "Our strength is our knowhow in operating difficult and acute financial systems for many years."
Staff Reporter Park, Jungeun | jepark@etnews.com & Staff Reporter Park, Jongjin | truth@etnews.com