Blockchain-based IT company called EDRA (CEO Kwak Joon-kyu) announced that it has started a beta-test of 'EDRA Hub', which introduces a new concept called Action Mining rather than using mining method that requires huge amount of computing power.
Smartphone users can easily obtain points by touching Mining Tab after installing EDRA Hub application and they can exchange 100 points for 1 EDRA Coin. This beta-test will also be available on ISO soon after going through system stability verification through Android OS.
Although mining of points is possible by simply touching Mining Tab at the moment, mining will soon be linked to many genres of games such as Dots, MAZE RUN, and Southern Cross. Also, EDRA Hub can contribute to expanding businesses such as shopping malls that use EDRA Coins.
Contents such as videos and webtoons will be linked to official EDRA Hub, and it will be possible to check market values of cryptocurrencies and individual assets through EDRA Hub.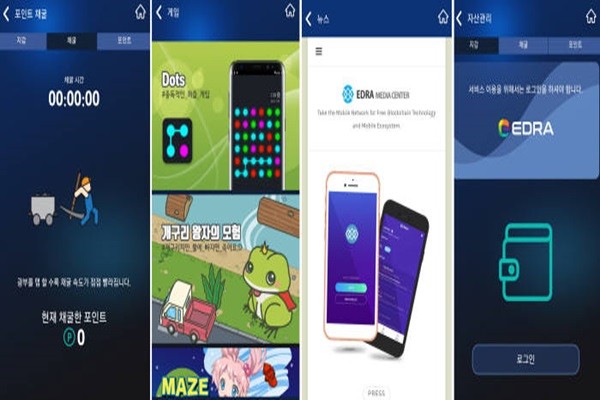 Through EDRA Hub, it will be possible to mine points while enjoying games and performing missions within games through Smartphones.
EDRA is going to establish its own mobile business ecosystem that provides various contents to its users and allows contents developers to create new sources of profit.
"Through Action Mining, we are going to turn mining, which was complicated and difficult, into an enjoyable daily life." said CEO Kwak Joon-kyu of EDRA.
EDRA has decided to apply an access system that goes through up to 4 stages of security checks by introducing pattern input, fingerprint recognition, and face recognition in addition to passwords.
Staff Reporter Gil, Jaeshik | osolgil@etnews.com