Uzbekistan Government is going to establish world's first cryptocurrency exchange authorized by a government. It is also going to form a large-scale fund for development of its digital economy. It is expected to be emerged as a new coin zone followed by Malta.
Uzbekistan Government recently announced two written decisions by its president on 'formation of Uzbekistan cryptocurrency exchange' and 'creation of fund for supporting development of digital economy'.
These written decisions have information on establishment and operation license of Uzbekistan cryptocurrency exchange and are based on forming a fund and attracting investments to push for cooperation between private and public blockchain businesses.
President Shavkat Mirziyoyev of Uzbekistan decided to push for cooperation between private and public blockchain businesses, promote technical experts and attract experts from foreign countries, and secure technical support from leading foreign institutions as part of forming a fund. It seems that Uzbekistan Government is preparing foundation to launch Uzbekistan as an intra-cryptocurrency hub. It is also going to hold an 'international blockchain forum' at Tashkent.
It seems that this will bring significant number of opportunities for South Korean businesses and cryptocurrency exchanges.
After The Electronic Times obtained and read through these written decisions, it is heard that Uzbekistan Government is going to exempt taxes on profits earned by corporates and investors including non-residents. They also clearly state that cryptocurrency trades do not conflict with Uzbekistan's 'laws on currency regulations'.
It is as if Uzbekistan is setting up a regulation free-zone for cryptocurrency markets.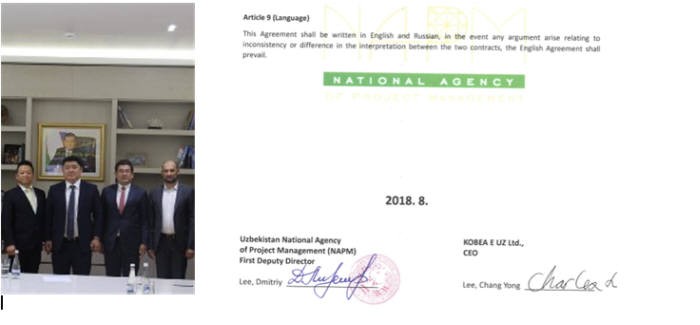 Uzbekistan Government is working on forming network with South Korean businesses and groups. KOBEA E UZ Ltd. has decided to push for various projects with NAPM (National Agency of Project Management), which is an organization under President Shavkat Mirziyoyev. It is going to participate as an organization that provides technical consultations on government projects such as establishment and operation of Uzbekistan cryptocurrency exchange, legalization of ICO (Initial Coin Offering), formation of mining complex and large-scale blockchain R&D complex in Charvak, establishment of cryptocurrency banks approved by Uzbekistan Government, and opening of blockchain department within Uzbekistan's national universities. Many South Korean IT experts are expected to participate in Uzbekistan's plan to develop its digital economy.
This shocking move by Uzbekistan Government is taking place after President Mirziyoyev's written decision No.3832 regarding 'measures for development of Uzbekistan's digital economy' was announced just two months ago. It is noticeable from the fact that President Mirziyoyev is working on this matter on his own to incorporate cryptocurrency into Uzbekistan's system and to eliminate uncertainty in regulations.
In the past, President Mirziyoyev selected development of technologies in crypto-asset, mining, Smart Contract, and blockchain fields, promotion of blockchain and IT personnel, close relationship with foreign establishments in crypto-asset and blockchain fields, establishment of legal foundation regarding introduction of blockchain technology based on successful incidences from overseas, and close relationship between national organizations and economic units for development of innovative idea and technologies to develop Uzbekistan's digital economy.
He appointed NAPM to be responsible for pushing these tasks and gave authority to NAPM to establish relevant legal foundations. There are many national enterprises under NAPM that represent entire Uzbekistan industries. Out of these enterprises, Uzbekistan's electric power corporation and hydro-electric generation corporation decided to submit information on lands regarding establishment of mining industry.
Staff Reporter Gil, Jaeshik | osolgil@etnews.com