Co-Founder Sergey Brin of Google announced that Google lost its opportunity to be in the forefront of blockchain development.
American media CNBC reported that Sergey Brin announced at a blockchain conference that was held in Morocco last weekend that Google lost its opportunity to be in the forefront of blockchain technology.
Brin is currently the president of Alphabet, which is the parent company of Google. Sergey along with other leaders and researchers of blockchain technology participated in a blockchain summit that was held by Founder Richard Branson of Virgin Group.
"Google probably lost its opportunity to be the leader of blockchain technology." said Sergey Brin with regret.
He said that although Google did not choose distributed ledger technology in early stage, there is a need for 'X', which is a research department of Google, to research about blockchain technology.
"In the future, many of these brilliant ideas will become reality." said Brin while explaining that Google X performs such task.
While acknowledging that he is unsure about his own personal interest towards blockchain and cryptocurrency, he is certain about possibilities of blockchain and cryptocurrency in the future. He said that he has become interested in blockchain after seeing amateur mining device built by his son.
"About a year or two ago, my son told me that he needed a gaming PC and I told him that he needed to decode when he gets his gaming PC." said Brin while explaining that they have been making few dollars by mining 'Ethereum'.
"I have clearly gained interests in blockchain and cryptocurrency after this incident and I have started to research into relevant technologies. As a result, I have also found how captivating they are." said Brin.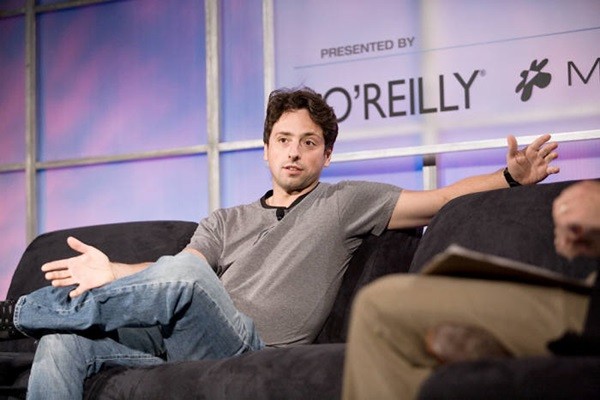 Google has been approaching blockchain technology based on B2B (Business to Business) such as Cloud service and security.
According to Bloomberg, Google started developing its own digital ledgers in March with a purpose of protecting data of its customers. Although exact launch date of these ledgers is unknown, it is heard that Google has been carrying out extensive tests since 2016 to apply blockchain technology to its Cloud service.
On the other hand, some say that Google is looking at potential of cryptocurrency and blockchain in B2C (Business to Customer) field negatively. Actually, Google prohibits publication of cryptocurrency advertisements. Also, some say that it is unusual that Google does not mention much about blockchain technology at Google Developer events and others.
It will be interesting to see what kind of moves Google will make after Sergey Brin made such comment. Google has the most data in the world and is looking into using blockchain mainly for Cloud and security. While distributed ledger technology can be useful for protecting data, fact that current technology cannot rapidly process many data is still seen as an obstacle.
Google Ventures (VC), which is a venture capital subsidiary of Alphabet, invested into a digital wallet company called Blockchain Luxemburg, a blockchain-based financial transaction service called Ripple, a cryptocurrency asset management platform called LedgerX, and an international payment service.
Staff Reporter Kim, Myunghee | noprint@etnews.com