Samsung SDS (President Hong Won-pyo) introduced its digital finance platform called 'Nexfinance', which is based on AI (Artificial Intelligence) and blockchain technologies, and is planning to enhance its digital finance business. Samsung SDS held a press conference at its headquarters in Jamsil on the 4th and explained major functions of Nexfinance and direction of its financial business.
Nexfinance is a digital finance platform applied with advanced technologies such as AI, blockchain, Big Data analysis, and intelligence process automation. It provides digital identity, finance concierge, AI virtual assistant, and automatic insurance claim services.
Digital identity is a digital identification based on blockchain and it forms a system where customers' information can be shared and utilized. It expands non-face-to-face financial services as it is applied with functions such as comprehensive authentication, comprehensive log-in, and electronic signature. Korea Federation of Banks, Korea Life Insurance Association, and Samsung Card have applied digital identity to their respective businesses.
AI virtual assistant supports individual task of an insurance planner. It increases efficiency of tasks with its learning in financial products and services. Samsung Securities and Samsung Fire & Marine Insurance are currently using AI virtual assistants for their respective businesses.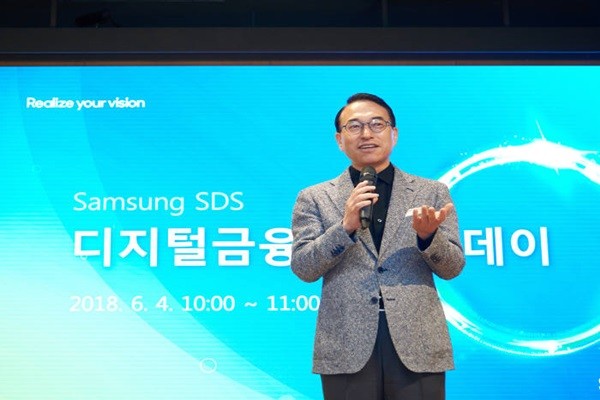 "Financial organizations are looking to enhance their digital competitive edge by operating digital task forces." said Team Leader Kim Young-kwon of Samsung SDS. "They are planning to provide personalized services by linking their services with various technologies in addition to blockchain, interactive AI, visual AI, and analytical AI."
Samsung SDS is focusing on financial business markets with Nexfinance. Based on its experience in establishing SAP Enterprise Resource Planning (ERP) for Samsung Life Insurance and Samsung Fire & Marine Insurance, it is also planning to target insurance ERP market as well. It is showing its intention to target financial industries again since it withdrew from financial system integration (SI) business 4 years ago.
"After we withdrew from financial SI business, we have been preparing for foreign businesses centered on solutions by focusing on development of innovative digital technologies." said Department Head (Vice-President) Yoo Hong-joon of Samsung SDS Financial Business Department. "We are going to push for digital finance business through Nexfinance that has already been verified of its technical skills and is applied with new technologies." He also said that Samsung SDS finished establishing ERPs for Samsung Life Insurance and Samsung Fire & Marine Insurance and that Samsung SDS is planning to target foreign markets based on this experience.
Staff Reporter Kim, Jiseon | river@etnews.com