A place where blockchain and cryptocurrency experts, developers, and students from various countries including South Korea share information is going to be held in July.
According to industries, '2018 IEEE Blockchain Summit Korea' will be held on the 7th and the 8th of July at the 4th floor (Supex Hall) of SKT Tower.
CEOs such as Cha Myung-hoon (Coinone), Kim Seo-joon (Hashed), Kim Jong-hyup (Theloop), and Seo Kwang-yeol (Kodebox) from South Korean companies that represent South Korea's cryptocurrency and blockchain industries will attend this summit and make speeches on blockchain and cryptocurrency. Richard Jung, who is going to represent EOS Foundation's block.one, will take a view of the vision of 3rd generation cryptocurrency called EOS.
Professor Angelos Starvrou of George Mason University will make a keynote speech with a topic of 'Blockchain+IoT'.
A session where blockchain-related companies introduce their business models and strategies will be held on the first day of the summit. CTOs from Penta Security, ICON Foundation, EdenChain, and BlueWhale will give speeches on blockchain engine and DApp (Decentralized Application).
Status of blockchain businesses of South Korean telecommunication businesses will also be provided through this summit. SVP Lee Kang-won of SK Telecom and Director Seo Young-il of KT Blockchain Center will introduce their services that are base on blockchain.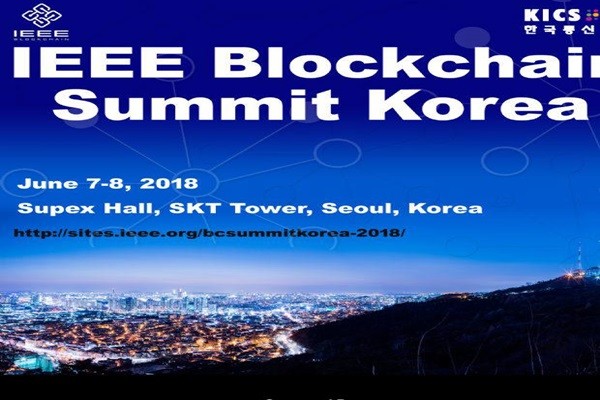 On the second day, IEEE Blockchain Korea Group will be launched officially. IEEE Blockchain Group will vitalize exchange of education related to blockchain in South Korea and standardize blockchain.
Second day of the summit will be centered on speeches from developers and announcements of academic results. Engineers from Theloop and Kodebox will introduce blockchain engines, examples of commercialized blockchain engines, and ways of development of cryptocurrency-based games utilizing code chains.
Presentations by students from Seoul National University, Sogang University, and Pohang University of Science & Technology are also something to pay attention to as they will show glimpses of research done by universities that have become a major part of blockchain ecosystems.
Besides these lectures and presentations, President Kang Sung-joo of KOREA POST, which will represent public sectors, will give a lecture on 'Blockchain and Postal Service'.
"Cryptocurrency is just one of services that are based on blockchain and there is an infinite number of ways of utilizing blockchain." said Director Hong Won-ki of Pohang University of Science & Technology's Information Communication Graduate School who is the chairman of this summit. "We will be able to estimate process of South Korea's blockchain businesses through this summit."
"I felt that South Korea is not behind when it comes to development of blockchain technologies as IEEE blockchain Summit Korea has been prepared and I expect that potential of South Korea's blockchain industry will explode once there are funding and support from South Korean Government." said Director Hong.
This summit is a preliminary event to 'IEEE Global Blockchain Summit' that will take place in Washing from the 17th until the 19th of September.
Staff Reporter Ham, Jihyun | goham@etnews.com