A blockchain platform called 'IOST', which is applied with a next-generation cryptocurrency distribution method, has officially landed in South Korea. It claims to be the next public blockchain that will replace Ethereum with its high TPS (Transaction Per Second), expandability, and security.
"South Korea has excellent IT infrastructures and talented people." said CEO Jimmy Zhong of IOS at a press conference that was held at Four Points by Sheraton Gangnam Hotel on the 9th. "We are going to gather even more blockchain developers and relevant companies through our business in South Korea and create a new blockchain ecosystem."
IOS, which has its base in Singapore, is responsible for development and operation of IOST. It currently has branches in the U.S., China, and Japan.
CEO Zhong introduced IOS as the blockchain that meets with reality the most. IOST is a blockchain platform in a form of an OS (Operating System) that can upload DApp just like Ethereum.
Its strength compared to other blockchain platforms such as Ethereum is its fast TPS. Its speed is currently about 8,000 TPS and it is expected to go up to 100,000 TPS by end of this year. Speeds of Ethereum and Bitcoin are only 20 TPS and 4 TPS respectively.
Main cause of its fast TPS is PoB (Proof of Believability).
PoW (Proof of Work), which is a mining method of Bitcoin, consumes large amount of electricity and it even caused monopolistic phenomenon where people with high-performance miners dominated Bitcoin.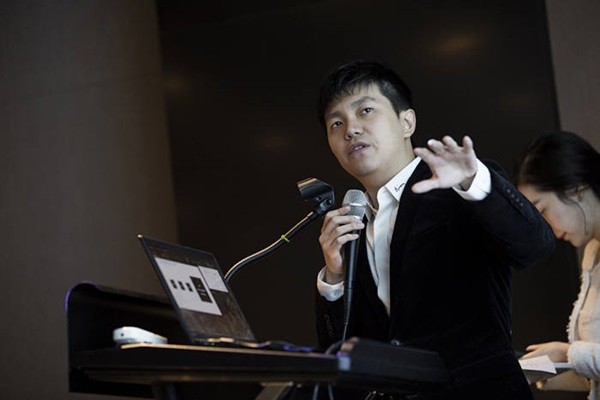 PoS (Proof of Stake), which is applied to 2nd generation Ethereum, raises 'the rich-get-richer and the poor-get-poorer' controversy as it gives rights to decide on soft fork (partial update) and hard fork (complete update) of a blockchain to people who have the most corresponding coins. It also has slow TPS as consumers issue large amount of money.
IOST's PoB randomly selects people who actively participate in blockchain ecosystems as validators. It selects people who used or developed DApps or people who actually made payments with cryptocurrencies. Validators inspect whether there are problems such as hacking or personal information leak with a system and get compensated with cryptocurrencies.
"One can collect tokens through direct mining." said CEO Zhong. "We send blockchain data through a method where IOST is verified by top 20% participants."
IOS attracted investments from about 30 VCs (Venture Capital) including Sequoia Capital and it has people who used to work for Alibaba, Mobike, and Goldman Sachs and winners from information Olympiads who have abundant amount of experiences and abilities as its employees.
IOST cryptocurrency can be traded through Huobi Korea. IOS is planning to list IOST at other exchanges as well in the future.
"Out of funds that we have collected through ICO, 35% of funds excluding costs that are necessary for development are tied to a separate escrow account." said CEO Zhong. "It is set up that no one can touch those funds until we implement our project."
Staff Reporter Ham, Jihyun | goham@etnews.com