The world is in a midst of blockchain boom. There are many varieties of cryptocurrencies starting with Bitcoin. Many startup companies based on blockchain technology are making their appearances on daily basis and they prefer ICO (Initial Coin Offering) method over IPO (Initial Public Offering) when they are trying to attract investors.
Blockchain is a technology that distributes data and records and saves them. Because it makes data public to all users, it prevents any counterfeit attempt. It is being mentioned as an alternative to internet that has become centralized.
Countries are making various attempts on finance, food, registration of land register, and others with blockchain technology. Estonia, which is a country leading in blockchain field, introduced blockchain technology to its resident registration system. South Korean Government is also investing $13 million (14 billion KRW) this year into development of technologies related to blockchain.
Under a sponsorship from Korea Press Foundation, The Electronic Times is going to visit and introduce 6 countries that introduced blockchain technology to their national systems and present directions of development of technologies for the future.
Chinese Government included blockchain to its Five-Year Plans. Although its blockchain industry focused on domestic market until last year, it is going to look towards other countries starting from this year. Hangzhou is at the center of this plan for its blockchain industry. Chinese Government's goal is to implement a 'black hole' that absorbs global blockchain markets to its market.
First, Chinese Government is going to legislate blockchain standards for its financial field and promote them as international standards in the future. It is also going to hold a global contest and promote blockchain startups. It is planning to create a fund worth $1.37 billion (10 billion yuan) for these goals.
Chinese companies are also going to respond to such effort made by Chinese Government. Ant Financial, which is a subsidiary of Alibaba, has emerged as a company that has the most blockchain-related patents in the world. Many blockchain startups are emerging quickly with Beijing and Hangzhou at the center.
◊Hangzhou's Chain into Blockchain City
Hangzhou is the biggest beneficiary of Chinese Government's Five-Year Plan. Just this year alone, 3 to 4 industrial complexes for blockchain had been formed. Chinese Government's plan is to create synergy by having companies from same type of business at a same location. However, there are not many blockchain companies in these industrial complexes yet. These complexes are filled with few blockchain companies along with financial and internet companies.
"After blockchain was included to Five-Year Plan, Chinese Government is working hard to vitalize blockchain industry." said the CEO of Yunxiang. "Process has gotten even faster when local governments have become involved in this process."
Hangzhou, which has Alibaba Headquarters, is a city based on companies that represent China's IT and internet industries. It is creating a blockchain ecosystem by mobilizing local infrastructures. Currently, it started working on legislating blockchain standards for China's financial field with China's central government. Many blockchain companies including Yunxiang from Hangzhou are participating in this project.
This process is divided into three main goals. First goal is to legislate standards for managing basic data (open-source) that form blockchain. Chinese Government is also going to establish standards including security regulations for different fields where blockchain can be applied as well. It is expected that this process will be finalized by end of this year. "We are currently creating standards after receiving an order from China's central government." said the CEO of Yunxiang. "We are focusing on promoting them as international standards eventually."
Second goal is to hold competitions in Hangzhou for students from top 50 prestigious universities in the world. Chinese government's plan is to have them compete for supremacy in blockchain field. Major universities from Germany, England, U.S., and others are expected to participate in this competition. Preliminary rounds will be held in respective countries. Only students that advance to final rounds from each country can compete for the main competition that will be held in Hangzhou in this July.
Last goal is to expand amount of support for blockchain startups. Chinese Government is planning to support them so that they can actually achieve visual performance. Chinese Government is going to provide them with office space and necessary fund as basic needs and pressure them to open up their open sources to public organizations that cannot be approached very easily. It is also going to create a fund just for startups called 'Xiang'an Global Blockchain Innovative Fund' worth $1.57 billion (10 billion yuan).
"Although we are a small startup company with less than 50 employees, we have become a blockchain company that is responsible for a credit loan consumption office operated by Chinese Government." said the CEO of Yunxiang. "We are carrying out various businesses by utilizing loan information owned by corresponding organizations." He also added that Yunxiang's sales goal for this year is $3.14 million (20 million yuan).
Yunxiang provides basic development environment in a form of a platform so that financial organizations can create blockchain-applied programs on their own. It is playing important roles in creating security standards as it also participates in a process of legislating blockchain standards.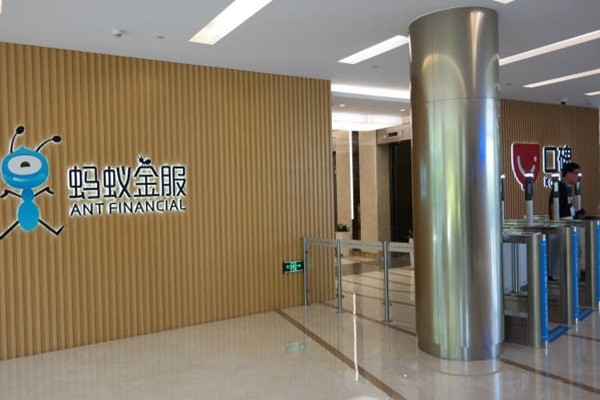 ◊Chinese Government Actively Supports Blockchain Industry
China has a structure where its companies actively participate whenever Chinese Government implements economic policies. Although large corporations such as Alibaba, Tencent, and Baidu are under its economy, it is actually its public organizations that support Chinese economy. Public enterprises are responsible for 80% of China's GDP (Gross Domestic Product). Private companies do not have enough influence to be significant.
Ultimately, this structure has become a catalyst for expansion of blockchain ecosystem in China. Although it is a new industry that cannot make visual results right away, large corporations and startups are making investments into blockchain voluntarily and involuntarily. Starting point of Chinese blockchain industry is 2016 when Chinese Government announced its Five-Year Plan.
Ant Financial started incorporating blockchain technology first. It introduced blockchain technology to donation function of a volunteer group within Alipay. By inputting ledgers of this volunteer group into blockchain, it can now see whether donations are sent to correct places. Ant Financial succeeded in commercializing this platform at the end of 2016. About 30 volunteer groups are part of this platform.
Ant Financial is also going to apply new blockchain technology into Alipay. It is planning to apply RFID (Radio Frequency IDentification) chip, which recognizes objects and people through wireless frequency, onto distribution network. It is going to target consumers with huge purchasing power or expensive products first. QR code was used in the past. If a QR code is scanned with a Smartphone, one is able to see how a corresponding product was produced and sold. Ant Financial uploaded step-by-step information onto blockchain and inputted them into respective QR codes.
However, it is inconvenient to check QR codes one by one. Also, there are products such as seafood that cannot have QR codes on them. As a result, Ant Financial is planning to increase level of convenience for consumers by replacing QR codes with RFID chips.
Ant Financial is currently working on developing new technologies with a research institute, which is composed of about 30 employees, at the center.
"We jumped into blockchain business in 2016." said Manager Anna Wang of Ant Financial. "We are going to improve financial and distribution services by utilizing blockchain and IT and increase level of convenience for our consumers."
Staff Reporter Choi, Jonghee | choijh@etnews.com