A place where leading blockchain companies can transfer their knowhow onto startup companies is set to be prepared to vitalize blockchain ecosystem through consulting on startup companies.
Berith is going to hold Blockchain Forum at Ferrum Tower on the 11th under a topic 'The First Young Adults Speak Blockchain Project'.
Business knowhow, technical elements, and experiences involving ICO (Initial Coin Offering) will be provided to new blockchain project teams at this seminar. Berith is planning to select 5 blockchain startups that will participate in this seminar by end of this week.
CMO Lee Sang-joon of Berith is going to introduce the seminar during a first session. He is going to talk about the meaning, direction, and expectation of his first seminar 'Young Adults Speak Blockchain Project'. Vice-President Kim Jung-hyuk of Berith is going give a seminar under a topic 'Future Created by Blockchain' followed by the first seminar.
At this seminar, participating startups will introduce their own business ideas. Berith, in turn, is going to inform them about blockchain platforms and how to set up virtual wallets and recommend suitable type of token for each participant.
At the end of the seminar, Chairman Jeon Ha-jin of Korea Blockchain Industry Promotion Association's Self Regulation Committee is going to hold a guest lecture under a topic 'The Next Human Life by Blockchain'.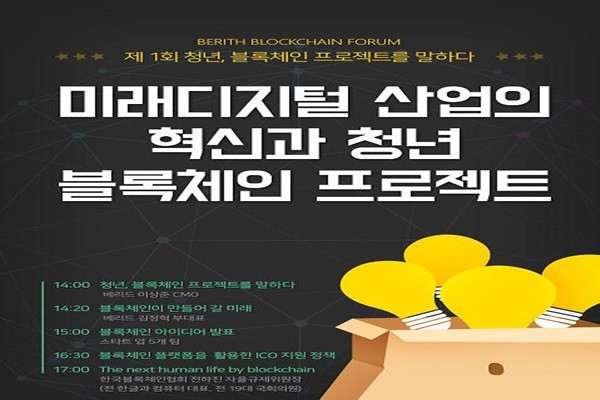 "We are planning to periodically share our blockchain platforms, knowhow from various businesses, and technical skills every month." said CMO Lee Sang-joon of Berith. "We are going to promote South Korea's blockchain projects by giving opportunities to blockchain startups with announcement and advertisement of their ideas and to young adults with blockchain technology, marketing, and consulting."
Berith is the first South Korean company to introduce Mainnet. Introducing Mainnet indicates that a 'token' that previously used different blockchain network is converted to a 'coin' with its own blockchain network.
Berith also finished carrying out ICO for its Berith Coin last month. ICO of Berith Coin adopted a reverse ICO method through IBIZ Software. IBIZ Software develops business solutions and Big Data platforms and it has an ability to establish membership services. Reverse ICO indicates that a blockchain company already received investments from VC (Venture Capital) or succeeded in IPO (Initial Public Offering) and issued cryptocurrency.
Berith Coin is South Korea's first membership-based cryptocurrency. Berith drew restaurant businesses to its private blockchain network and gave real values to Berith Coin. Bitcoin and Ethereum can be exchanged to 'Berith Coin' and be used at franchise stores.
Staff Reporter Ham, Jihyun | goham@etnews.com