"Blockchain will be an innovative driving force that will completely change South Korea's startup industry. This kind of phenomenon is already happening in foreign countries. 'Startup industry 4.0' generation where promising companies with technical skills introduce their services to markets by obtaining funds first through ICO (Initial Coin Offering) instead of IPO (Initial Public Offering) will arrive within next dozens of years."
CEO Lee Seok-woo of Dunamu, who was a keynote speaker at 7th Smart Finance Conference, proposed new approach of blockchain.
While there are continuous controversies regarding correlation between cryptocurrency and blockchain, he emphasized that blockchain should be used in different forms instead of only being used as technology and that blockchain should be converged into a catalyst that triggers innovation within many industries. He proposed that people should not limit themselves from looking at blockchain as just mere technology.
"For startups to be established, they obtain funds through IPO after organizing groups, establishing corporates, and introducing services." said CEO Lee. "However if blockchain is applied to startup system, startups can receive necessary funds first through ICO and operate their companies afterwards."
If this system is introduced, corresponding companies do not have to be limited to their funds and they can commercialize more stable innovative services.
However, he warned that there is a possibility that there can be companies that just obtain funds through ICO and disappear afterwards just like in the past when it was booming with IT venture companies. He explained that there must be detailed guidelines for ICO markets as a result.
"Even reverse ICO, which is carried out by large corporations and other companies with technical skills, is also becoming more active as a new investment method." said CEO Lee. "Fact that Telegram obtained $658 million (700 billion KRW) already by issuing its own coins is a prime example." CEO Lee explained that even a concept of 'IEO (Initial Exchange Offering' in which companies are directly listed through cryptocurrency exchanges made an appearance. He also elaborated further that a business model where some cryptocurrency exchanges are selling their own coins to the public is becoming more active in foreign countries.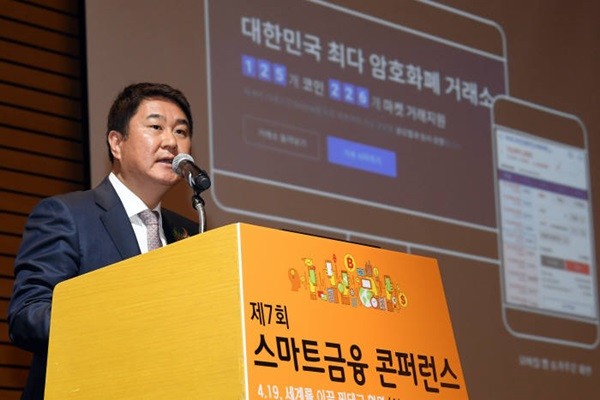 CEO Lee put out a prediction that cryptocurrency can be used even for markets where property and real estates are bought and sold.
"For example, a new shape of formation of property where one can own just 0.003%of a building without purchasing entire building can be made through Ethereum-based ERC platform." said CEO Lee. "'CryptoKitties'-type services will also be possible where on can possess assets, music, art, and intellectual property rights by replacing them as tokens."
CryptoKitties is a game developed overseas. One can breed virtual cats and he or she can even crossbreed or proliferate virtual cats. This game provides digitalized virtual cats with identities through blockchain. While normal games infinitely copy characters, this game is different. It creates a cat with a distinct number every 15 minutes which can be purchased through Ethereum. As a result, it creates a cat that is different from other virtual cats. These cats cannot be copied through screenshots or others.
"I got goosebumps while looking at this game." said CEO Lee. "Blockchain technology that can be copied infinitely and give out distinct identities at the same time can be expanded infinitely within many industries."
"Cryptocurrency can be seen as a gift certificate that is provided as a type of an incentive from blockchain industry." said CEO Lee regarding relationship between cryptocurrency and blockchain. He criticized the fact that level of confusion has heightened as governments and markets could not provide clear definitions of cryptocurrency.
"Although there is yet to be any clear legal definition of cryptocurrency, cryptocurrency plays a role of lubricant that operates blockchain platforms and is a type of a compensation." said CEO Lee. "It is time to define cryptocurrency as money or a type of a commodity." Only then there can be room for taxes to be levied on cryptocurrency.
CEO Lee explained that South Korean Government, cryptocurrency exchanges, and relevant businesses need to join hands to create global blockchain platforms. He emphasized that blockchain is an essential element for South Korea to create global platforms such as Facebook and YouTube.
"Although KakaoTalk is developed itself as a service platform, it has yet to be globalized." said CEO Lee. "Although countries with large capital and much information are more favorable for AI (Artificial Intelligence), IoT (Internet of Things), and Cloud technologies, South Korea actually has many outstanding experts in blockchain field and is standing at a same starting line as any other countries."
Staff Reporter Gil, Jaeshik | osolgil@etnews.com