Actoz Soft is looking to focus on blockchain business.
"We are going to have blockchain business as our new business for the future." said CEO Guo Haibin of Actoz Soft at a press conference that was held in Seocho-gu on the 2nd. "We are planning on blockchain models that can be applied to eSports platforms and communities first."
Actoz Soft is going to exclude ICO (Initial Coin Offering) at the time being. "We are not going to look into ICO for awhile." said CEO Guo Haibin. "Because new blockchain technologies and blockchain models continue to be released, blockchain business will help us expand range of our business even without ICO."
"It is important to grab upper hands in blockchain industry since it is just starting to be formed." said CEO Guo Haibin. "We are going to focus on blockchain business and eSports business, which we have been working on, at the same time."
Actoz Soft presented blockchain startup incubation, blockchain-based eSports, and blockchain applied eSports platforms as its goals.
Actoz Soft is planning to invest into blockchain-based startups and apply technologies from these startups to its eSports business. At this press conference, CEO Guo Haibin had a business model that has viewers and fans pay money to eSports clubs and open up their own tournaments as an example.
Actoz Soft also presented its blueprint for helping blockchain-based companies to enter Chinese market. Actoz Soft is a subsidiary of a Chinese game developer called Shanda, which recently received $475 million (500 billion KRW) of investment from Tencent.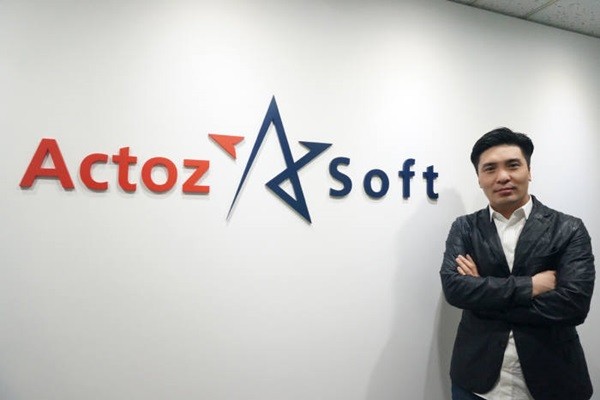 "Many business models that are based on blockchain are making their appearances within Chinese market." said a director for Actoz Soft. "We can help businesses or groups that are focusing on blockchain industry."
Goals of Actoz Soft's eSports business, which started last year, are ground-wave broadcasting and opening of WEGL (World eSports Game & League).
"We are going to produce a pro-gamer audition program called GSK (Game Star Korea) soon." said CEO Guo Haibin. "It is possible that it will be aired by end of this year."
Actoz Soft is a game developer that possesses IPs (Intellectual Property) of 'The Legend of Mir 2' with WeMade. It is classified as a Chinese-Korean game developer after it was acquired by Shanda in 2004. Actoz Soft was incorporated as Shanda's subsidiary after purchasing shares of Identity Games, which is another South Korean game developer acquired by Shanda, in 2012.
Actoz Soft released a mobile game called 'Dragon Nest M' in March. This game, which is based on Identity Games' online game called 'Dragon Nest', was developed by a Chinese game developer. Dragon Nest M is currently in the tenth place of South Korean Google Play based on sales.
"We are going to diversify IPs of Dragon Nest into webtoons and animations." said CEO Guo Haibin. "We are going to release Dragon Nest M in Japan sometime during the second half of 2018 and additional two to three games related to Dragon Nest by end of this year."
Staff Reporter Kim, Siso | siso@etnews.com