LG Electronics decided to bring OLED TVs that are applied with 2018 AI (Artificial Intelligence) platforms to the forefront. It decided to lower the price of new OLED TVs by an average of 20% compared to last year's OLED TVs and sell 77-inch OLED TVs at about $9,300 (10 million KRW). It is looking to expand foundation of OLED TV and its influence on premium TV markets by raising performance and lowering price of OLED TVs.
LG Electronics held '2018 New LG TV Presentation' at 'Seocho R&D Campus' on the 5th and introduced 'LG OLED TV AI ThinQ' that is applied with its own AI platform called 'DeepThinQ'.
LG Electronics improved quality and level of convenience of new OLED TVs with AI. DeepThinQ controls TV, image, and sound through its ability to understand natural language. DeepThinQ is able to perform functions that a user wants whenever he or she gives commands while holding down the magic remote microphone button. For example, if a user wants yoga lesson on or classic music on from YouTube, it is able to find relevant videos from TV programs, VOD (Video On Demand) services, or YouTube. It is even able to find answers for schedules of baseball games.
One can control volume, change channels, and turn off a TV at certain time audibly. Whenever a user changes image mode such as movie, sports, or game, new OLED TV can provide optimal quality and sound accordingly.
LG Electronics also improved quality of OLED TV by applying an AI quality engine called 'α9', which can remove noise in four different steps by analyzing input image. It separates objects from background and adjusts values by looking for optimal light and shadow ratio and chroma respectively.
LG Electronics is going to introduce ten different OLED TV models this year. It added stand-type 'LG Signature OLED TV W (65W8K)' that looks like wallpaper for consumers that want wallpaper TVs but have difficulties setting them up at their respective homes.
LG Electronics decided price of 55-inch model to be between $2,790 and $3,348 (3 million KRW and 3.6 million KRW), price of 65-inch model to be between $4,836 and $10,230 (5.2 million KRW and 11 million KRW), and price of 77-inch model to be between $15,810 and $22,320 (17 million KRW and 24 million KRW). Price of the most inexpensive model is $6,417 (6.9 million KRW) cheaper than the OLED TVs from last year.
LG Electronics is also going to apply premium functions to 'Super Ultra HD TV' that is equipped with a LCD panel. It improved color representation by applying 'Nano Cell' technology that places super-fine particles on top of a LCD panel. This TV is also equipped with 'Dolby Atmos' and 'Gallery Mode' functions that had been only applied to OLED TVs in the past.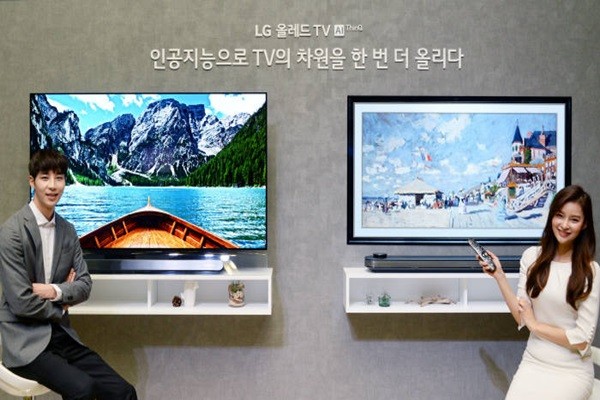 "This year is an important year to raise the level of OLED TV by adding AI on top of perfect black and quality. We are going to show twice the performance in premium markets this year just like last year." said Department Head Kwon Bong-seok of LG Electronics' HE (Home Entertainment) Business Headquarters.
"We increased our market share of premium markets for the past 3 years based on OLED TV." said President Kwon. "We were able to increase our sales and profitability and we are going to continue that trend this year as well." He also said that LG Electronics is planning to increase percentage of OLED TV sales out of entire TV sales from 15% to 20% this year.
LG Electronics is looking to focus on premium markets even more this year through OLED TV.
"We will be able to supply 10 million OLED TVs in 2021. There are more than 200 million TVs that are supplied annually and 5% of 200 million TVs will be covered by OLED TVs." said President Kwon. "About 2 to 3% of entire TV markets are premium products and our task is to continue to increase percentage of premium products. Starting with AI OLED TV, we are going to accelerate the growth of OLED TV business."
Staff Reporter Kwon, Keonho | wingh1@etnews.com & Staff Reporter Byun, Sanggeun | sgbyun@etnews.com