Pyeongchang 2018 Olympic Winter Games, which presented unexpected outcomes and dramas, ended on the 25th. South Korea was able to earn precious medals even from events such as curling, skeleton, bobsleigh, and snowboarding and developed itself into a powerhouse in winter sports.
South Korea sent out teams composed of 221 players, which is the biggest group ever that South Korea sent out to any Olympics in the past, to Pyeongchang 2018 Olympic Winter Games, which was the first Olympic held in South Korea after 1988 Summer Olympics was held 30 years ago.
It earned 5 gold medals, 8 silver medals, and 4 bronze medals and it broke its previous record of 14 medals that were earned in 2010 Winter Olympics (Vancouver).
Number of gold medals was less than the number of gold medals it earned from 2006 Winter Olympics (Torino) and 2010 Winter Olympics when it earned 6 gold medals respectively. However, it was a great accomplishment for South Korea from an aspect that number of total medals increased and that it was able to earn medals evenly from many different events.
It was able to earn medals from skeleton, curling, and bobsleigh in addition to events such as speed-skating and short-track where it earns medals almost every Olympics. It even earned a medal from snowboarding. It was able to raise its status as a powerhouse in winter sports by earning medals from 6 events. In the past, it was only able to earn medals from 3 events.
By hosting Winter Olympic, South Korea has become the eighth country followed by France, U.S., Germany, Italy, Japan, Canada, and Russia to host both Summer and Winter Olympics.
President Moon Jae-in and his wife, King Carl XVI Gustaf of Sweden and his wife, Vice Premier Liu Yandong of the People's Republic of China, Ivanka Trump who is the advisor to President Trump, and Vice-Chairman Kim Young-chul of N orth Korea's Central Committee, attended the closing ceremony that was held at Pyeongchang Olympic Stadium at 8 P.M. on the 25th.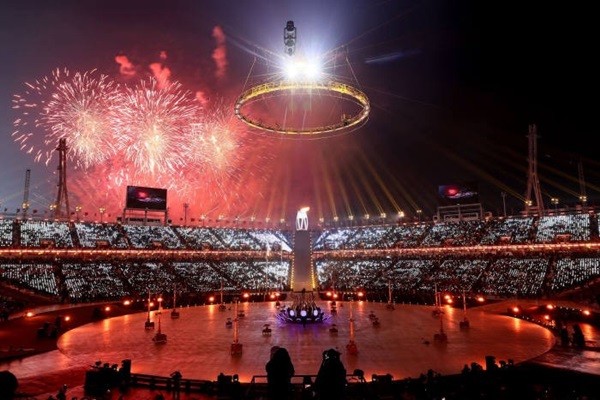 President Moon received 'snowball' from a child from Gangwon-do and a gift that symbolizes mountains, fields, and buildings of Gangwon-do, Olympic, and peace.
Closing performance was performed by a singer CL under the title of morning glow, memorable trip, and new axis of time.
Olympic flag was given to Chairman Thomas Bach of IOC (International Olympic Committee) from Governor Shim Jae-guk of Pyeongchang which then was given to Mayor Chen Jining of Beijing. EXO's performance and EDM performance followed by cultural performance from Beijing finished off the closing day of 2018 Winter Olympic.
2018 Winter Olympic had 92 countries, which is the most ever, and 2,920 players participate in fierce competitions for 16 days. It also had 31 top foreign guests from 26 countries and the secretary general and the chairman of UN visit South Korea at the same time.
It also made a record from aspects of performance and record. It sold 1.046 million tickets, which account for 98% of its goal, and earned $139 million (150 billion KRW) in profit from tickets alone. 2018 Winter Olympic also raised symbolism as peaceful Olympic by an appearance of an unified team of South Korea and North Korea.
Total of 980,000 people visited 12 stadiums, Pyeongchang Olympic Plaza, and Gangneung Olympic Park during 2018 Winter Olympic. Many new records also came out due to facilities that are applied with state-of-the-art eco-friendly methods. There was a new world record and 12 new Olympic records from ice games. Gangneung Ice Arena was praised for its perfect quality of ice even though it held short-tracks, which required thickness of ice at 3cm, and figure-skating that required thickness of ice at 5cm.
Staff Reporter Mun, Bokyung | okmun@etnews.com