Many unique experiments that are going to be carried out on the opening day of Pyeongchang Winter Olympics are attracting public's attention.
One of these experiments is going to be IoT-based (Internet of Things) wearable payment service that is going to take place at every stadium during this Olympics. An innovation called 'wearable payment' will take place at Pyeongchang that is expecting more than 12,000 visitors every day during this Olympics.
Innovative experiments where foreigners and natives who will be visiting Pyeongchang and Gangneung will make purchases through NFC-based (Near Field Communication) wearables within stadiums are going to take place. With these wearables, they will not need wallets and they will be able to make purchase through devices that are attached on their clothes or bodies.
This payment system will also involve innovative ways of making payments as it will include 17 different types such as gloves, badges, and stickers depending on customers' preference.
The Electronic Times was the first press to see this system taking place on the day before the opening day of Pyeongchang Winter Olympics.
Payments will be made through Visa Cards within stadiums of Pyeongchang Winter Olympics.
In order to innovate convenience in making payments, Visa Card partner up with Lotte Card and installed NFC payment readers at 1,100 locations such as stores, restaurants, and souvenir stores within stadiums in Pyeongchang and Gangneung.
This reader that received EMV certification was supplied by Verifone. Kovan and Koces from South Korea are in charge of payment gateway. In a way, this is a partnership between foreign processing and South Korean payment technologies.
A reporter from The Electronic Times visited a superstore, which is a souvenir store that is operated by Lotte Department Store, within Olympic Park in Gangneung. Foreign buyers purchased items with their gloves or badges at the counter in order to experiment wearable payments. Some management of Pyeongchang Winter Olympics and players gathered around the counter as they had also begun to show interests.
An American visitor who visited this superstore was very amazed at wearable payments.
Although this visitor knew that South Korea is one of credit card powers in the world, this visitor said exclamation marks repeatedly by saying that it is the first time experiencing making payments through wearables. The visitor put thumbs up by saying that the visitor is once again surprised at South Korea's competitive edge in IT.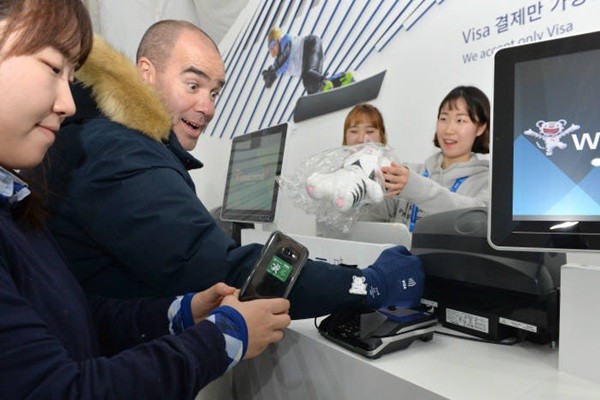 In order to have payments take place through wearables, many processes and IT technologies are needed. Payment processing that goes up to four stages from payment gateway called VAN (Value Added Network), sales of NFC payment devices, and infrastructures of card readers where actual payments take place.
This way of payment is done through collaboration of Visa Card and VAN services from South Korea that had gone through many tests for certifying card readers over many months.
There are four booths that sell wearables in Pyeongchang and two in Gangneung. In order to minimize any inconvenience for users, there will be six vending machines at six locations near Olympics' official superstore. Movable booths will also be operated to prepare for times when it will be crowded with consumers.
Buyers from American, Japanese, and Chinese IT companies have been visiting Pyeongchang and Gangneung in order to look at wearable payment infrastructures.
It is heard that Japan and China, which are going to hold Tokyo Olympics in 2020 and Beijing Olympics in 2024 respectively, have started looking into introducing wearable payments. Faces of Japanese buyers who visited Pyeongchang Olympics turned dark.
Their faces turned dark not just because they saw wearable payments but also because they saw innovative Industry 4.0 technologies. Pyeongchang Winter Olympics is going to be a place where South Korea can display its IT technologies in 5G network, self-driving cars, and IoT.
"It is scary to see South Korea's high level of technical skills in telecommunication fields as well as payment fields." said a Japanese buyer who experienced South Korea's wearable payment. "I was able to see once again how South Korea is a powerful nation in FinTech industries by looking at people paying for their lunch with Samsung Pay."
Staff Reporter Gil, Jaesik | osolgil@etnews.com