Kakao Games has established a subsidiary called Friends Games to strengthen its capabilities in development of games.
"Common strength of casual games and Kakao is mass appeal." said CEO Nam Goong-hoon of Kakao Games at a press conference that was held at El Tower on the 7th. "We are going to internalize at least casual games through Friends Games." CEO Nam is also going to hold the position of CEO for Friends Games and look over entire businesses personally.
"We agonized even more than when we expanded our business towards publishing followed by game platforms." said CEO Nam. "We are not only planning to target foreign markets but also go after entire areas of game industries."
By establishing Friends Games, Kakao Games now has a triangular structure that is composed of developer, publisher, and game platform. Kakao Games has established Friends Games by combining capabilities of studios and subsidiaries within Kakao Games with Supernova 11 at the center.
Kakao Games formed Friends Games by recruiting many star-level producers. Total of 12 people such as CEO Kang Ki-jong of Daeheung Development, CEO Lee Won-sool of Sonnori, CEO Lee Jae-sang of PeopleRug, and CEO Yoo Jung-sang of LeftRight will be the key people for development. Co-CEOs Kim Dong-joon and Park Young-ho of Supernova 11 and Department Head Kwon Mi-jin of Kakao Games' Business Headquarters will be the chief producers.
Friends Games will focus on developing casual games and it is planning to utilize Kakao Friends' characters. It is currently developing games such as 'Friends Town', 'Friends Racing', and 'Friends Golf'.
Friends Game introduced unrevealed new games on this day. It introduced a teaser of 'White Day: Testing of One's Courage', which is a VR (Virtual Reality) game that utilizes IP (Intellectual Property) of a horror game called 'White Day' and raised expectations.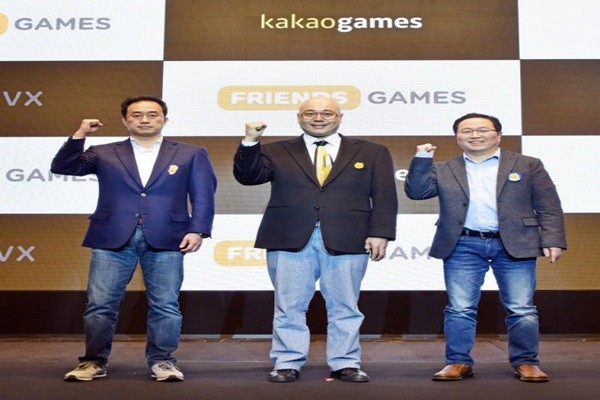 Calling of Friends Games comes from the IP of Kakao Friends. Its name has meanings of games that are enjoyed by friends and games that will help make new friends.
"We are also going to focus on games with hardcore genres." said CEO Nam. "We are going to expand our scope through partnership and investments and we are thinking about releasing about 20 games during 2018."
Kakao Games also announced golf booking service based on AI (Artificial Intelligence). Kakao Games' subsidiary called Kakao VS is currently developing this service with hopes of releasing it by end of this year. This service understands a person's golf style and patterns of his or her reservations through AI and provides best information. Kakao VX enhances level of convenience of this service by connecting it with current Kakao services such as Kakao Pay and Kakao Driver.
By talking to a chatbot of KakaoTalk, one can easily finish reservations, payments, and means of transportation. This chatbot also provides weathercast and information of popular nearby restaurants. It is also possible to perform these functions in a group chat.
Kakao VX is also going to work on home training business that allows one to learn exercises by watching videos on internet. AI movement recognition, cameras, and high-performance sensors will be used during this process. Kakao VX is also planning to put out contents for kids and educations by applying VR and AR (Augmented Reality) technologies to next-generation home devices.
Kakao Games is preparing to become a listed company. "Our goal is to become a listed company sometime during the second half of this year after claiming for a screening during the first half." said CFO Nam Jae-kwan of Kakao Games. "We are going to maximize our business value and make correct selections that will allow us to meet quality investors." However, CFO Nam added that Kakao Games is not sure whether it will choose KOSDAQ or KOSPI.
Staff Reporter Choi, Jonghee | choijh@etnews.com