"People and robots cannot work together due to a regulation that prohibits robots from working in a work place where there are people working." said President Moon Jae-in at a debate for innovating regulations on the 22nd.
Although Ministry of Employment Labor's official announcement, which includes information mentioned by President Moon, was revised in last October, it was a regulation that was far away from current situations before October. Due to this regulation, a work place that includes robots needed to set up a safety network in order to protect workers due to concerns that workers can be seriously injured when robots and workers are bumped into each other.
However there has been a lot of opinions towards abolishment of such regulations as collaborative robots with improved safety features that stop automatically once they feel outside impact started to appear due to recent improvement in robotic technologies.
Unlike normal manufacturing robots, collaborative robots are robots can perform tasks such as assembling and packaging at a work place with people. South Korean Government revised its official announcement that says that collaborative robots can work with people if they correspond to safety standards.
In accordance with this revision, many South Korean and foreign robot manufacturers are actively targeting collaborative robot markets. Universal Robot (UR), which is a global collaborative robot manufacturer in Denmark, is planning to actively go after South Korean markets starting from this year.
UR is seen as one of major global companies in a field of collaborative robot and it supplies many collaborative robots to major automotive manufacturers such as Volkswagen, BMW, and Audi. Currently about 20,500 UR's collaborative robots are being used worldwide.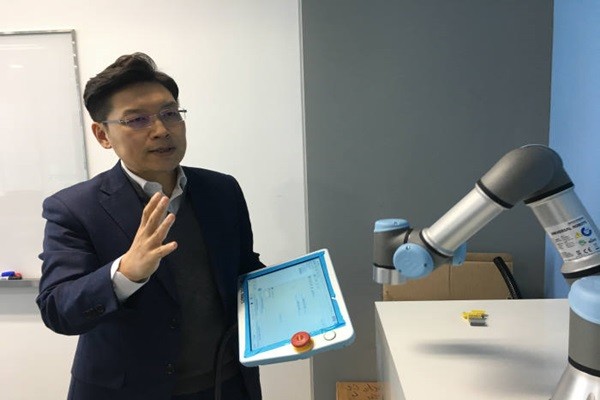 In 2017, RIA (Robotic Industries Association) once announced incidences of applying collaborative robots to global manufacturers. According to RIA, GE (General Electric) used collaborative robots during an assembly process of streetlamps. P&G is currently using them during a packaging process of perfume samples. BMW is using them for bonding doors of its products. Many manufacturers highly interested in collaborative robots as collaboration between people and robots leads to improvement in productivity.
"There is a research that shows that productivity when people and robots work together is 85% higher than when they do not." said Department Head Lee Yong-sang of UR's South Korea Business Headquarters. "They are absolutely necessary during people-centered Industry 4.0 that maintains employment."
UR's collaborative robots are gaining popularity as products that are suitable for multi-product small-sized production. They are designed so that they can be easily set up according to work environment and characteristics of products. As a result, one can easily set them up for manufacturing of various products and reduce its operation cost.
UR is taking the lead of establishing an ecosystem based on collaborative robots. It induces third parties to join through its 'UR+' platform. 180 companies around the world are participating in application programs and development of modules such as sensors, vision systems, and grippers. Based on this, about 40 modular products are sold from UR+'s homepage. UR is encouraging development of modular products by providing mechanical drawings of its collaborative robots and SDK (Software Development Kit) to companies that are developing modules. An ecosystem for UR+ is being established as robots that make hamburgers by attaching modular products onto UR+'s platforms are making appearances in foreign countries.
"Many companies have collaborative robots participate in simple repetitive work while they have skilled workers perform tasks with high values." said Department Head Lee. "It is expected that collaborative markets will continue to grow by 70% every year."
Staff Reporter Kwon, Sanghee | shkwon@etnews.com