Nexon has prepared itself for a new year even from the first month as it finished its preparation to introduce its new games in an order and target global markets.
Nexon held a launching preview event at Four Seasons Hotel in Seoul on the 9th and made an announcement that it will be launching its new mobile game called 'Durango: Wild Lands' on the 25th. Along with 'Yulgang M', they will be responsible for drawing popularity for Nexon early on.
'Yulgang M', which is Nexon's first mobile game to be published in 2018, will be released on the 11th and it was produced by utilizing IPs (Intellectual Property) of martial arts comic book called Yul Hyul Gang Ho. Yulgang M is a collection-type side-scrolling mobile game.
Durango: Wild Lands is an ambitious work developed by Nexon over a period of 5 years and 6 months. "In order to provide a new game play with unfamiliar materials that are hardly seen within South Korean games, we have spent countless hours in its development." said Vice-President Jung Sang-won of Nexon. "It is going to provide a new meaning to development of mobile games."
Producer Lee Eun-seok, who is a star developer, put his heart into this game. Durango was developed by What!Studio, which is an independent group within Nexon that is specialized for development, under the guidance of Producer Lee.
Durango is the first mobile game based on a genre of Sand Box MMORPG (Massively Multiplayer Online Role Playing Game). It is based on a story where users who fell into dinosaur era have to pioneer rough environments for their survivals and create virtual societies. It is different from regular games where users have to battle each other with swords and magic.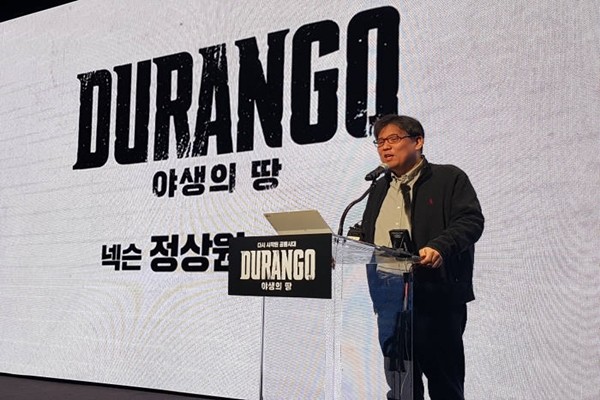 Range of selections that a user can choose within game play is also very wide as users can create their own games through collaboration and exploration. Durango is also applied with AI (Artificial Intelligence) technologies so that environments within Durango continue to change through a particular algorithm.
"I wanted to create a true innovation that others cannot imitate so easily." said Producer Lee Eun-seok. "One can enjoy Durango by dividing various jobs and roles with his or her friends in primitive society."
He also said that a game designer, who holds a doctorate degree in geology and paleontology, participated in the development of Durango and that actual animal sound was used as sound within Durango by applying its own foley recording method.
Nexon also introduced a community for Durango. Rather than an official café for a mobile game, it introduced a curating site called 'Durango Archive'. Nexon has created this site in order to keep various Durango contents and records of its users.
Nexon's goal is to have Durango become a popular game globally. Number of subscribers surpassed 1.6 million in just 22 days removed from the start of advanced reservation. "Durango will become a global game that surpasses Asia." said Producer Lee. "Ultimately, we are planning to remove walls between services and locations through single server."
Producer Lee also talked about his ambition of having Durango a long-lived game. "Our goal is that Durango will remain popular for at least 10 years." said Producer Lee. "We are going to continue to improve and develop Durango through feedbacks from its users."
Staff Reporter Choi, Jon ghee | choijh@etnews.com