Many of South Korean businesses that represent South Korean IT industry are going to go to Las Vegas in February. Large corporations such as Samsung Electronics, LG Electronics, and Hyundai Motor Company, mid-sized companies, and startup companies are going to participate in 'CES 2018', which is the world's biggest IT and electronics exhibition, and compete for next-generation technologies. They are going to introduce their latest technologies and next-generation technologies in many devices such as TV and home appliances, AI (Artificial Intelligence), Smart City, self-driving car, and 5G network and are looking to lead global markets.
According to industries on the 7th, about 210 South Korean businesses are going to participate in 'CES 2018', which is going to be held in Las Vegas on the 9th (U.S. time).
CES that is held at the beginning of every year is a place where businesses can introduce their latest products and technologies and their future strategies. It draws attention from global IT and electronics industries. However level of interests towards CES has increased even more recently as fields that CES deal with continue to expand towards car, software, drone, digital health, and others.
For South Korea, large corporations such as Samsung Electronics and LG Electronics that lead global IT and electronics industries and Hyundai Motor Company and Kia Motors that are targeting global automotive markets are going to lead the way. Small and medium companies such as Coway, COMMAX, and MCNEX and startup companies are also going to participate in CES 2018.
Samsung Electronics is planning to introduce Smart Life through IoT (Internet of Things) and AI. It even set its theme for the exhibition as 'One Samsung' and it is going to focus on showing how much convenience its products and services that are connected through IoT and AI provide for its consumers.
It is also going to introduce new products such as 8K QLED TV that has 4 times better quality than UHD TV, micro LED TV that is considered as a future display technology, and improved Family Hub Refrigerator. It is also going to put out results of its automotive electronic device business that it has been strengthening.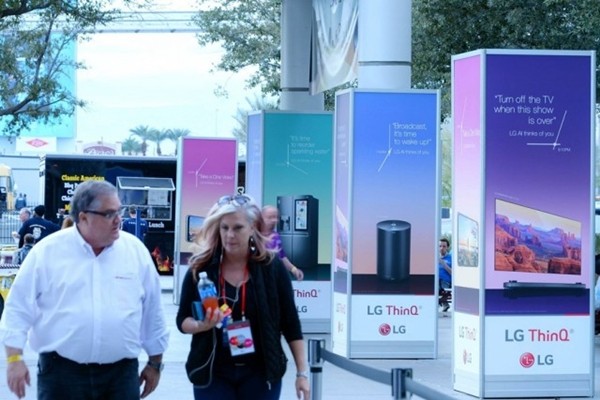 LG Electronics is going to focus on informing the world about its AI brand 'ThinQ'. It is going to set up a large-scale 'ThinQ zone' where it is going to introduce its AI technologies and introduce products that are applied with various AI platforms. It is also going to introduce OLED TVs and three different types of robots that are applied with AI for the first time and prepare an area where it is going to introduce its ultra-premium home appliance called 'LG Signature'.
LG Display is going to introduce '65-inch UHD rollable display' for the first time. It is going to present differentiated values of OLED through world's first 65-inch UHD rollable display and transparent display and it is looking to continue its leadership in premium markets. Rollable display increases value of use of space as a screen can be rolled up and hidden whenever it is not being used. It is easier to install and move a screen if it can be rolled up and rollable display can adjust optimized size and ratio of a screen depending on purpose of use by a user.
Hyundai Motor Company is going to introduce its improved self-driving technologies along with its next-generation eco-friendly vehicles. At CES 2018, it is going to announce its global alliance with Aurora, which is an American company that specializes in self-driving technology, for development of its next-generation self-driving cars. Hyundai Motor Company is planning to commercialize 4-stage (based on Society of Automotive Engineers) self-driving cars that do not require drivers by 2021. It is drawing even more attention as it announced that it is going to introduce self-driving technologies through its next-generation FCEVs.
CES is also a good opportunity for small and medium companies and startup companies to inform the world about its products and technologies. Coway is going to introduce its clothing cleaner that was awarded an innovation prize by CES for the first time and exhibit its air purifier that required cooperation with Apple. COMAX is going to participate in CES 2018 with a theme of 'A.I. Home' through its business partnership with Amazon, Google, Microsoft, and IBM. Samsung Electronics is going to look for business opportunities for startup companies that are from its venture program called 'C-Lab'.
Staff Reporter Kwon, Keonho | wingh1@etnews.com