South Korean Government put out a hard-line policy that will close certain virtual currency exchanges in order to root out speculation in virtual currency.
It is also pushing for a plan that will completely stop virtual accounts from being issued as speculation in virtual currency continues to become rampant even after it announced its regulations and countermeasures. Virtual currency exchanges can be completely thrown out of markets if they do not follow South Korean Government's measures.
South Korean Government held a meeting for vice ministers of government departments at Government Complex-Seoul on the 28th and announced its special countermeasures in order to root out speculation in virtual currency.
First of all, it is going to look into establishing a special law that will close virtual currency exchanges. On this day, Ministry of Justice suggested enactment of special law for closing virtual currency exchanges.
South Korean Government and South Korean banks are going to examine status of virtual currency exchanges' payment service operations by end of this year and they are going to induce unsound exchanges that do not follow South Korean Government's policies from getting kicked out of markets.
Relevant departments such as Fair Trade Commission and Korea Communications Commission are going to immediately stop virtual currency exchanges' payment services depending on whether or not these services violated consumer related laws and results of on-site investigation on computer securities.
Along with these, South Korean Government decided to notify exchanges that do not obey prohibited policies regarding possession of virtual currency, purchase of virtual currency, acquisition of security, and equity investment to their relevant banks.
South Korean Government is going to introduce real-name financial transaction system for virtual currency starting from next year in order to secure transparency on transactions of virtual currency.
It is going to prohibit anyone from using virtual accounts that are based on current method that makes identification difficult and convert this current method to 'real name authentication deposit/withdrawal account service' that allows deposits and withdrawals from bank accounts of traders who are identified and same bank accounts from virtual currency exchanges.
It decided to make such decisions because it believed that bank's virtual accounts being loosely used as trading accounts for virtual currency has led to increased speculations and impediment on transparency of financial transactions.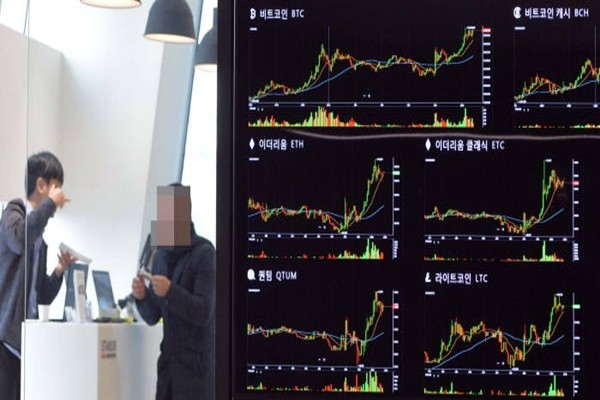 Issue of new virtual accounts will be stopped completely, and new members will not be provided with virtual accounts as well. Current virtual account holders need to transfer their accounts.
South Korean Government decided to quickly carry out the process of transferring current virtual account holders' accounts. South Korean Government announced that it will be working with Financial Intelligence Unit and Financial Supervisory Service in order to examine status of operation of banks' real name authentication deposit/withdrawal account services so that these services can be settled as soon as possible.
It is going to mandate anyone who commits any illegal acts such as market manipulation abusing virtual currency and illegal funding to be taken into custody for questioning and demand maximum penalty allowable by law.
South Korean prosecutors and police investigated a fraud case that disguised itself as a virtual currency miner seller and took strong measures by imprisoning and prosecuting 18 people. It is also going to establish and push for its plan to crackdown on crimes related to virtual currency in 2018.
Major targets are illegal pyramid frauds, fraudulent acts that disguise as virtual currency mining business, violation of foreign exchange transactions regulation, money laundering through virtual currency transactions, and exchanges' illegal acts.
"Relevant governments decided to gather opinions because so called 'do-not-ask' speculations are in full swing and they could not leave any more abnormal speculations to take place continuously." said Hong Nam-ki who is the chief for the Office for Government Policy Coordination. "We are going to open up every possible means including opinions on closure of exchanges and examine every countermeasures."
Financial authorities are also going to prepare guidelines for preventing money laundering with South Korean banks and they are going to look into ways of limiting trade limits for each person.
Financial Services Commission decided to prepare 'guidelines for preventing money laundering related to virtual currency' sometime during January. It decided to set up trade limits for each person after carefully analyzing suspicious transactions and coming up with results from its inspection.
Staff Reporter Gil, Jaeshik | osolgil@etnews.com & Staff Reporter Kim, Insoon | insoon@etnews.com & Staff Reporter Yang, Jongseok | jsyang@etnews.com