"There are more regulations in South Korea that impede Industry 4.0 rather than encourage Industry 4.0." said Director (President) Kim Ki-nam of Samsung Electronics Device Solution (DS) Division.
President Kim made this statement during his opening statement after coming out as the MC of 'Korea Leaders Forum' that was held by National Academy Engineering of Korea at Westin Chosun Hotel on the 14th. Topic of this forum was 'Revolution of Laws and Regulations That Will Lead South Korea to Become a First-Class Country'.
"It seems that Big Data, which is considered as the basis of Industry 4.0, is not being utilized well due to Personal Protection Act and Information Communication Network Act." said President Kim. "Even self-driving cars and drones that are becoming part of our daily lives more and more are also chained to many regulations such as Civil Aviation Act." He also emphasized sense of crisis by saying that other areas besides Industry 4.0 are also going through same situations and that South Korea cannot be hesitant any more due to regulations.
Samsung Electronics had gone through many incidences where there investments or businesses were disrupted due to regulations. It recently saw construction of its new semiconductor plant being delayed because it could not get an approval. Hwasung-si requested construction of underground roads worth $64.4 million (70 billion KRW) by saying that construction of new plant will cause amount of traffic around that plant to increase. Although Hwasuing-si based its request on Urban Traffic Improvement Promotion Act's Traffic Impact Analysis Provision, it was difficult for Samsung Electronics to accept such request that was proposed without any detailed reasons. Eventually it was able to receive an approval after suggesting Hwasung-si to have related discussions in the future after seeing the effects of its new plant on traffic. Start of construction was delayed for about a month later than its initial plan. "Companies that are looking for new opportunities are having significant amount of difficulties due to regulations." said President Kim.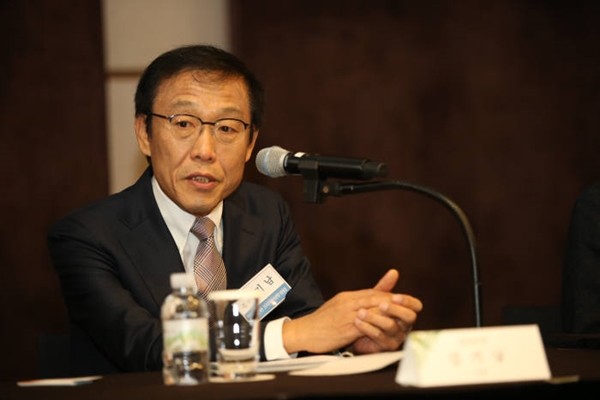 "There are about 4,000 legislations including enforcement ordinances and enforcement regulations that move South Korea. Most of administrative laws that account for 90% of these legislations are regulations." said Professor Jeon Jae-kyung of Seoul National University's Global Environment Management. "Successive South Korean Governments thought it was a reformation when they reduced number of regulation provisions within administrative laws. There were even instances when they reported simple combination of two provisions into single provision as a reformation. While the U.S. and England give lawyer rights to their bar associations, South Korean Government is in charge of all. It needs to send out things that belong to markets."
Problems regarding legislative branch were also brought up. "Although each member of our legislative branch has strong skills in his or her respective field, revolution of regulations is still far off as ultimate goal of members are either being reelected or seizing power as the party." said Professor Hong Seong-geol of Kookmin University. "Because most of interests are towards increase in amount of budget for welfare such as youth allowance and child allowance rather than improvement in regulations for R&D on scientific technologies and Industry 4.0, we need to ultimately put more effort into raising problems for individual issue."
"I suggest that National Assembly should either establish a system that reviews regulations prior to enacting them or establish a standing committee or a special committee that is responsible for such procedure." said Director Lee Kwang-ho of Science & Technology Policy Institute's Technology Regulation Center. "More research regarding reformation of regulations also needs to take place."
Staff Reporter Han, Juyeop | powerusr@etnews.com