Pinkfong will be available for children in Southeast Asian countries through Malaysia's biggest VOD (Video on Demand) service called 'On Demand'.
Smart Study announced on the 11th that it signed off on a business agreement with Astro Group, which is the biggest Malaysian media company. Starting from this month, Smart Study and Astro Group are going to make 400 Pinkfongs VODs through Southeast Asia's biggest VOD service called 'On Demand'.
Astro Group is a comprehensive entertainment company that covers radio, home shopping, and movie production after starting as a satellite TV channel business in 1995.
It has more than 100 satellite channels and 20 radio channels. Based on end of September, about 70% (5 million households) of households in Malaysia watched Astro channels.
Smart Study is a company that created a popular character called 'Pinkfong' that is receiving popularity worldwide.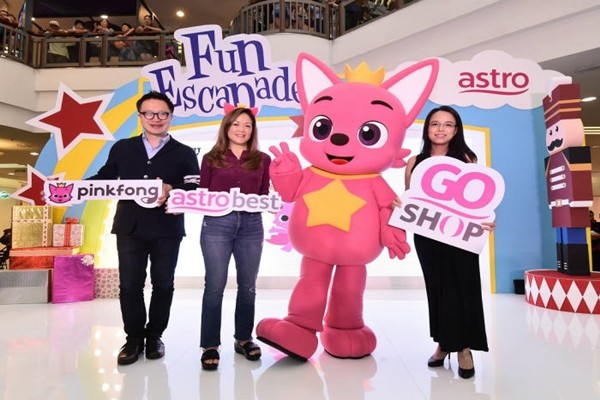 'Pinkfong Shark Family', which is the major contents of Pinkfong, surpassed 1.5 billion views on YouTube and is drawing popularity worldwide. 87% of views occur from other countries. Besides U.S. and England, percentage of ratings from Southeast Asian countries such as Malaysia, Indonesia, and Philippines is also high. As Baby Shark Challenge that uploads parodies of dance routines from Pinkfong Shark Family on SNS has become popular in Indonesia and Malaysia starting from last summer, status of Pinkfong has elevated greatly in Southeast Asian countries.
Smart Study participated in Malaysia's contents festival (Fun Escapade Event), which was held by Astro Group from the 6th until the 10th of December, and informed people about Pinkfong's contents.
Smart Study is planning to expand distribution network in Southeast Asian countries by launching Pinkfong characters on a home shopping channel called 'GO SHOP', which was established by GS Home Shopping and Astro Group.
"We decided to work with Smart Study in order to provide more various edutainment opportunities to our customers." said Vice-President Agnes Rozario of Astro Group. "We expect that Pinkfong will help us to solidify our fan base of children even more."
Staff Reporter Kim, Siso | siso@etnews.com