Korea Research Institute of Chemical Technology (KRIST, President Jung Soon-yong) recorded 22.7% of efficiency with its perovskite solar cell and broke the record for world's best efficiency five times.
KRIST announced on the 11th that perovskite solar cell developed by a research team led by Seo Jang-won, Ph.D., of Optical Energy Convergence Material Research Center received certification for world's best efficiency from National Renewable Energy Laboratory (NREL).
Perovskite solar cell is made to deal with climate change that is becoming more serious and is considered as a candidate for solar power that can create new industries in the future. Because it is relatively inexpensive and flexible, it is considered as a next-generation solar cell. In case of KRIST, it has studied on perovskite solar cell since 2012.
Efficiency of 22.7% renews KRIST's previous record for world's best efficiency at 22.1%, which was certified in March of 2016. KRIST's studies focused on improving open circuit voltage of a device and succeeded in improving overall efficiency of a cell.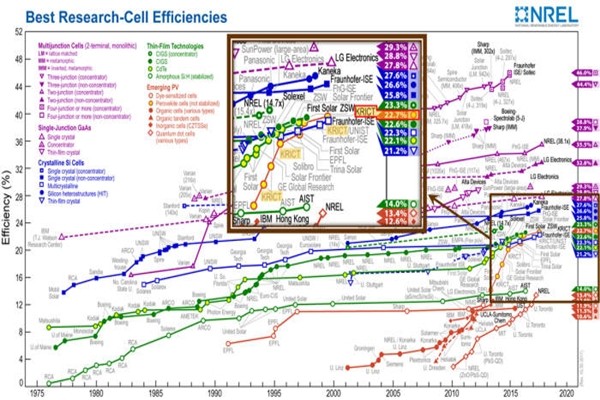 Research team announced that its newest study is a result that proves once again that KRIST is the world's leading organization in this field. Also it explained that its study shows possibility that perovskite solar cell can replace cells that are currently on markets. Efficiency of its perovskite cell is not far apart from that of current silicon solar cells (25 to 26%). Its perovskite cell already exceeded best efficiencies of CdTe solar cell (22.1%) that is composed of cadmium and telluride and CIGS solar cell that is composed of copper, indium, gallium, and selenium.
Research team is planning to carry out follow-up research that will increase efficiency of its perovskite solar cell even greater through development of fundamental materials and process and device structure technologies. Also based on improved efficiency, it is going to focus on solving problems such as stability of perovskite solar cells and manufacturing of large modules.
"Although perovskite solar cell is an important solar power technology that can create new industries in the future, we still have problems such as stability and others to solve." said Seo Jang-won, Ph.D. "We are going to secure elevated credibility by solving these problems and lead in developing commercialized technologies."
Staff Reporter Kim, Youngjoon | kyj85@etnews.com