"I pictured producing a healthy juice made from farm produce extracts that anyone can enjoy. Nothing seemed impossible so I decided to take up the challenge."
Kangwon Food(shop2.sikfum.cafe24.com) sells juices made from farm produce grown in the Gangwon Province in Korea. CEO Yoo Sung-jae launched the brand in 2009 and its biggest competitiveness is the Drink Series. The series that include Cabbage Drink and Arrowroot Drink has gained popularity for its special production methods. A total of 30 different healthy juices are available on Kangwon Food's online store and each has its own unique production story.
In particular, Kangwon Food's special method for turning the strong bitterness of arrowroot extracts to a mild taste is notable. According to CEO Yoo, no additives or flavoring are included. Instead, the arrowroot goes through high pressured washers and placed in bundles of 10kg(22lbs) in storages set at -18°C(-0.4°F). The extracting procedure using low temperatures is one of the key secrets to the mild taste of the arrowroot drink.
CEO Yoo said, "I wanted to make healthy juices that even kids would like and this led to developing various techniques." He added, "Our customer targeting aims to spread beyond the existing middle-aged customers to embrace people of all ages."
Enhancing production facilities and acquiring certification was of utmost importance. Kangwon Food currently holds various certifications from the Korea Agency of HACCP Accreditation and Services; the Korean Ministry of Agriculture, Food and Rural Affairs; and Gangwon-do Governor Quality Certification.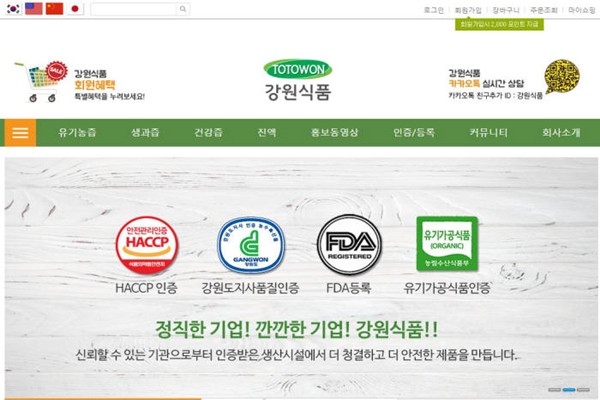 CEO Yoo's determination to make quality juice products known in the global market eventually led to success in the United States. In May 2016, a US Food and Drug Administration(FDA) employee visited the brand's production facilities. After some detailed explanation of the US Food Sanitation Act and a number of examinations, Kangwon Food was permitted to export to the US. The biggest demands currently occur in New York and Los Angeles.
CEO Yoo said, "The FDA's examination was stricter and more precise than I expected." He explained, "Because I started off with the global market in mind, I was able to acquire the needed knowledge and skills."
Kangwon Food's channel for global business is its online store made through global e-commerce platform cafe24(www.cafe24corp.com/en).
Expansion into the US opened opportunities to reaching new markets. Recently the brand is reviewing the markets of Japan, Vietnam, and other Asian countries. Kangwon Food products are expected to be welcomed here considering that these countries are already accustomed to farm-produced health juices. In fact, CEO Yoo recently visited Hanoi, Vietnam, and concluded that the market was indeed promising. He is already busying himself to develop new techniques to create products that cater to diverse global customer tastes.
CEO Yoo said, "This year's sales have grown over 200% compared to that of last year." He added, "Kangwon Food aims to be the company that introduces quality Korean food products to global customers."
Staff Reporter Yoon, Heeseok | pioneer@etnews.com