Hanmi Semiconductor has emerged as the biggest beneficiary from investments made by Chinese semiconductor manufacturers. Hanmi Semiconductor is a company that focuses on major equipment for back-end processes and handler. Number of orders from Chinese companies has increased continuously in recent days for Hanmi Semiconductor. Experts believe that this trend is continuing to happen as Chinese semiconductor manufacturers are focusing on growing their competitive edge in back-end processes as development of technologies for front-end processes has become slow. Hanmi Semiconductor is planning to expand its facilities as it recently purchased land next to its current plant 3.
Hanmi Semiconductor announced that it obtained orders worth $6.38 million (6.932 billion KRW) from a major Chinese OSAT (Outsourced Semiconductor Assembly and Test) company called HuaTian Technology. It also obtained orders worth $2.05 million (2.231 billion KRW) from a Taiwanese company called ASE, which is the world's number one OSAT company. Amount of orders it obtained from these two companies is a huge amount as it corresponds to 5.51% of Hanmi Semiconductor's sales in 2016 when it made $153 million (166.3 billion KRW). "We have already received orders of output until next April or May." said a representative for Hanmi Semiconductor.
Stock firms are estimating that Hanmi Semiconductor's sales for this year will either be close or surpass its sales in 2014 when it made company's biggest sales of $168 million (192.3 billion KRW). Experts predict that its sales in 2018 will be able to break its biggest sales as number of orders from Chinese companies continues to grow.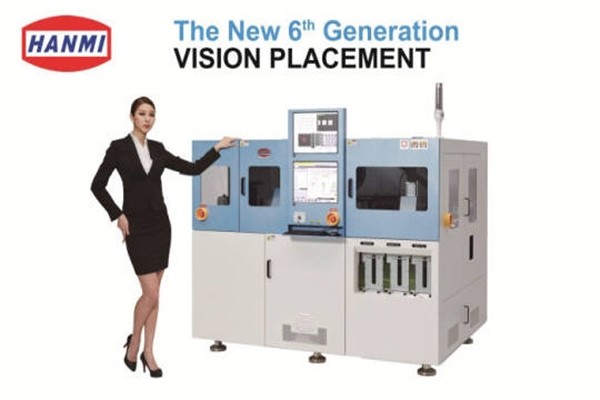 Hanmi Semiconductor is preparing to extend its facilities in order to prepare for increased orders. Hanmi Semiconductor purchased a land with 3,000 pyeong next to its headquarters in Gajwa-dong for $13 million (14.1 billion KRW) in early November of last year. Its plan is to start building process of its new plant in March of next year and finish construction by end of next year. It is expected that size of company, sales, and others will be bigger than before when its new plant is constructed and operates normally.
Major source of its sales comes from Vision Placement equipment that performs cleaning, drying, inspection, and selection processes on semiconductor packages. Due to its fast speed and high credibility, many global OSAT companies and comprehensive semiconductor manufacturers use Hanmi Semiconductor's equipment. Hanmi Semiconductor is currently the number one based on market shares of this equipment and it sold more than 2,000 Vision Placement equipment.
Its dual TC (Thermo Compression) bonding equipment for 3D TSV (Through Silicon Via) process, which was introduced for the first time this year, is also emerging as a new source of its sales. Because this equipment has two heads, its productivity is vastly outstanding than other bonding equipment. SK Hynix is carrying out its TSV process with this equipment.
Besides these equipment, its handling equipment for covering EMI (Electro-Magnetic Interference) and regular bonding equipment that stacks and attach many dies during packaging are also placing themselves as major sources of Hanmi Semiconductor's sales. It also has high expectations on laser field that it is pushing as its new business. Laser equipment can be used for various areas such as marking, cutting, and drilling. Hanmi Semiconductor opened its Laser Research Institute during second half of last year and is focusing its capabilities into R&D and businesses with its customers.
Staff Reporter Han, Juyeop | powerusr@etnews.com