Netmarble Games is planning to build up its publishing business as it is going to place games made by outside developers on its rank of blockbuster games. As Netmarble Games is expanding business, there is energy in entire industries.
Netmarble Games released mobile MMORPG (Massively Multiplayer Online Role Playing Game) called 'Tera M' on the 28th. It was developed by Bluehole's subsidiary called Bluehole Squall and it is published by Netmarble Games.
Netmarble Games, which is competing against Nexon to become the South Korean game company with most sales this year, is a company that has grown based on its own games. Through management rights of its subsidiaries, it developed 'Seven Knights', 'Everybody's Marble', 'Raven', and 'Lineage 2 Revolution' that have become popular continuously.
Relatively speaking, it does not pay much attention to games made by outside developers. Netmarble Games only imported popular games such as 'Penta Storm' developed by China's Tencent and 'Fate/Grand Order' made by Japan's TYPE-MOON that are verified in foreign markets.
Tera M will compete within MMORPG markets and it will follow the footsteps of Lineage 2 Revolution that has become popular in South Korean and Japanese markets this year. It is rare that Netmarble Games placed a game made by an outside developer as parts of its major line of goods.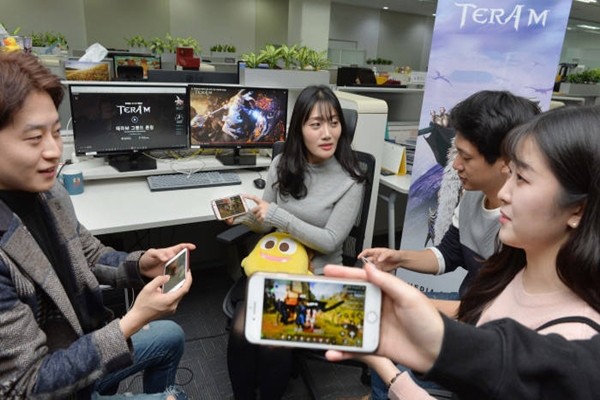 Netmarble Games is also planning to service a mobile MMORPG called 'Icarus-M' that was developed by WeMade IO and its goal is to release it during the first half of 2018. WeMade IO is a subsidiary of WeMade Entertainment. This means that Netmarble Games will be releasing blockbuster games that are made by outside developers one after the other. Netmarble Games' strategy is to increase its portfolio for MMORPG markets where competitions are very intense.
Development of contents and products (layout of business models), marketing, and operation are collectively called publishing. Size of publishing business was quickly reduced after 2010. Demands for blockbuster games disappeared for awhile after game markets have become centered on mobile games. Most of game companies directly provided their services to markets such as Google and Apple
NHN Entertainment and Neowiz, which were major medium-size companies, stopped supply and demand of outside game businesses after their sales from Go-Stop and poker games started to go down due to sanctions by South Korean Government. It was difficult to find a game company that developed publishing business besides Nexon and Kakao.
"Fact that a large game company like Netmarble Games is expanding its publishing business has huge impact on entire industries." said Professor (Chairman of Korea Game Society) Lee Jae-hong of Soongsil University. "On top of fast turnover, it will be able to spark fever amongst companies to make more investments or to establish startup companies."
Staff Reporter Kim, Siso | siso@etnews.com