A self-driving bus stops immediately as soon as a kid who has been chasing after a ball runs onto a road. This bus that starts driving again starts to reduce its speed when it detects black ice that may cause an accident due to slippage. This bus that avoided dangerous situations on roads safely drives until it reaches a destination where there is a customer who called the bus with a Smartphone. These are blueprints of actual state-of-the-art self-driving industrial complex that will be established in Pangyo in 2019.
KT and Gyeonggi Urban Innovation Corporation are going to establish world's first Mecca that leads Industry 4.0 by providing state-of the-art ICTs (Information Communication Technology) such as IoT (Internet of Things), Big Data, and Cloud and establishing city-based infrastructures in order to test self-driving cars.
KT and Gyeonggi Urban Innovation Corporation announced on the 26th that they held a 'briefing session for starting Pangyo Zero City self-driving test site' and started the construction on a land with an area of 432,000m2.
They are going to establish a test site where actual people can ride in self-driving cars and move within a new mini city that has state-of-the-art companies' offices and spaces for living. "Our goal is not just to test self-driving cars but it is also to establish basic facilities that make self-driving possible even in actual living environments." said a representative for KT.
Comprehensive control center that will be established by KT will be a tower that controls self-driving cars and IoT sensors on roads comprehensively. It will receive self-driving-related data, which will be at least 500GB daily, through LTE and 5G mobile network and save them into its Cloud. Its artificial intelligence (AI)-based analysis technology will improve performance of self-driving.
IoT sensors will detect surroundings on roads in three dimension. Not only do they prevent self-driving cars from unexpected dangers but they also prevent accidents by detecting and sending data from pedestrians and signals in three dimension.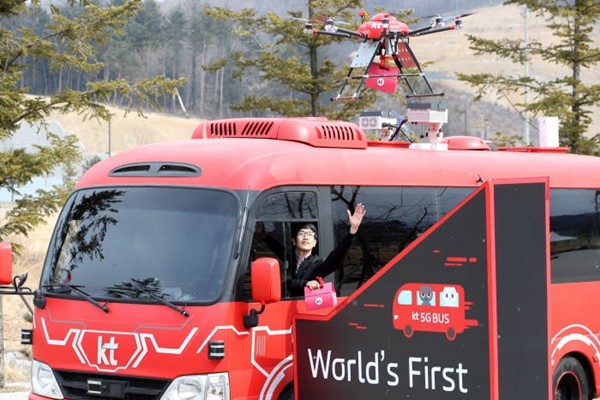 KT and Gyeonggi Urban Innovation Corporation explained that this industrial complex will not only induce corporation between private companies and local self-governing bodies but it will also become an outpost that will help South Korea to become one of powerhouses in self-driving technologies.
Their goal is to expand self-driving car industries by opening some of Cloud and control and Big Data systems to startup companies. They expect that this industrial complex will not only help global manufacturers and telecommunication technology companies with testing and verifying their technologies in actual settings and developing their self-driving technologies but it will also form a new self-driving car industry that will provide foundation for business cooperation.
KT's goal is to grab upper hands in innovative technologies by being the first one to apply self-driving technologies to 5G network. It is planning to promote its business that establishes and operates infrastructures for self-driving cars as its new driving force based on its differentiated competitive edge such as 5G bus. Its plan is to launch itself as a specialized business in global markets by providing differentiated infotainment services that can be enjoyed within self-driving cars as well.
"We are going to continue to make best efforts so that Pangyo Zero City can become a state-of-the-art Smart City that connects every things within a city based on state-of-the-art ICTs such as IoT." said Vice-President Lee Moon-hwan of KT Business Enterprise Department.
"We are going to make sure that Pangyo Zero City becomes a global Mecca for self-driving-related industries." said President Kim Yong-hak of Gyeonggi Urban Innovation Corporation.
KT and Gyeonggi Urban Innovation Corporation are going to operate self-driving shuttle buses from Pangyo Zero City to Pangyo Station starting from next month. Their goal is to finish construction of Pangyo Zero City by end of 2019 after going through first part of completion by June of 2018.
Staff Reporter Park, Jisung | jisung@etnews.com