APP (CEO Kang Bang-kwon) developed new atmospheric N2 low temperature plasma equipment that allows one to visually watch generation of plasma. It is expected that this new equipment will drastically reduce error rate of processes since one can actually see processes in real-time.
One cannot see plasma beam from current plasma equipment and it will not be possible to visually check whether or not plasma beam is working properly. Because it is impossible to check even if there is a problem with processing of plasma, error rate of processes is high with current plasma equipment.
One will be able to secure stable processes since it is possible to easily check plasma visually from APP's plasma equipment.
3D products can be easily processed through APP's plasma equipment as at least 10mm of plasma beam is spewed out. It also requires more than 50% less of gas consumption rate than current plasma equipment and helps with reducing operation cost.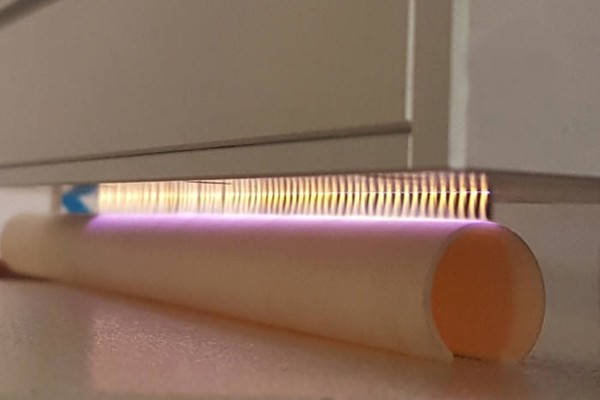 APP's equipment was recently applied to lamination process of Smartphones. Due to limitations in 3D formation or height, it is effective in areas of products, materials, and medical fields where plasma processing is difficult. APP is predicting that there will be high demands especially from lamination process of Smartphones that have many curves.
APP registered this technology as a patent under the name of 'visible plasma generator'.
Because APP's plasma equipment can handle processes by generating plasma in atmospheric pressure without any vacuum processing, it is going to develop its plasma equipment as atmospheric plasma equipment mostly. It does not require vacuum equipment since it generates plasma in room temperature and this helps to reduce space in production lines and cost of purchasing equipment. Cost and time that are required in production can also be reduced as entire steps of production of displays are shortened.
APP is expanding base for atmospheric plasma. Although its equipment was mostly used for cleaning process of semiconductors and displays, APP is slowly expanding applicability of its equipment towards etching process and others.
Staff Reporter Bae, Okjin | withok@etnews.com