Google's turnover from South Korea's game markets is set to surpass $2.69 billion (3 trillion KRW) in November. Compared to last year, its turnover grew by at least 70%. Google is going to make at least $448 million (500 billion KRW) this year just from commission without having to actually produce any game. Although its profit from South Korean markets is growing bigger, level of contribution from South Korean economy is low.
According to a mobile add tech company called IGAWorks, Google Play's turnover in South Korea accumulated to $2.58 billion (2.8882 trillion KRW) by end of October and 95% of its turnover is from games. Compared to turnover from January to October of last year, it grew by 72.5%. IGAWorks is estimating that Google will make about $3.05 billion (3.4 trillion KRW) and $457 million (510 billion KRW) in turnover and sales respectively just from games in South Korea if current trend continues. This trend is based on rankings of games on Google Play, calculation of monthly sales of major game developers, and algorithm.
Sales from games on Google Play are enjoying fast growth along with upward trend of mobile game markets. High sales from MMORPGs (Massively Multiplayer Online Role Playing Game) such as 'Lineage M' and 'Lineage 2 Revolution' have contributed to the growth.
Google Play is Google's application market that distributes various applications such as games. If a person pays $0.90 (1,000 KRW) on Google Play, developer takes $0.63 (700 KRW) while a mobile network provider and Google each take $0.13 (150 KRW). This indicates that an app developer take 70% while a mobile network provider and Google take 15% of turnover.
Commissions from Google Play that occur in South Korea are actually not Google Korea's sales on paper as they are considered part of Google Asia Pacific Headquarters' sales that have low tax rates based on Google's policies. South Korea cannot levy taxes on these commissions even though they occurred in South Korea.
"Google follows South Korea's tax system and significant amount of cost that corresponds to amount of commissions goes to telecommunication companies and operating cost of markets." said a representative for Google Korea. Google is running Google Korea as a limited liability company and is paying corporate taxes and surtaxes accordingly.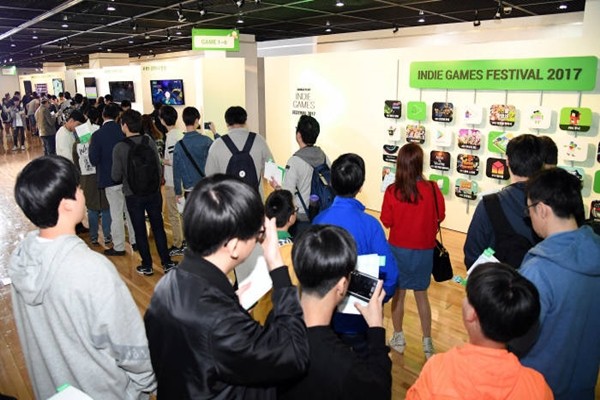 Google is a double-edged sword from game industries. Google and Apple are the first windows that game developers seek when they are planning to enter global markets as mobile games have emerged as mainstreams of markets.
Large game developers and some of mobile game developers has had tremendous growth in the past 2 to 3 years through Google and they also have significant amount of effect of expanded tax revenues. It is likely that Nexon, Netmarble, and NCsoft will make total of $5.38 billion (6 trillion KRW) in sales this year. Compared to last year at $3.58 billion (4 trillion KRW), their sales grew by $1.79 billion (2 trillion KRW). Main source of their sales is their mobile games.
'Lineage 2 Revolution' released by Netmarble Games made $62.8 million (70.1 billion KRW) in sales just during this past third quarter in Japan. Com2uS' mobile game called 'Summoners War' has made more than $896 million (1 trillion KRW) in sales from global markets until this year.
Small and medium companies lost their domestic markets due to increased influence of app markets as monopolistic phenomena happened from both platforms and contents. Half of top 12 games from South Korean Google Play based on a ranking in early November is Chinese games. Medium-sized companies such as NHN Entertainment and Neowiz reduced South Korea's mobile game business, and it was replaced by Chinese companies. Games that have become popular in Chinese and Japanese markets have entered South Korean markets without any competitions.
South Korean app markets that may keep influence of global markets in check are also swayed by influence of Google. One Store, which was created by 3 South Korean mobile network providers and Naver, was not able to attract any of 'Lineage M', 'Lineage 2 Revolution', and 'AxE' that are considered as 'Big 3' of this year's mobile games. Nexon and Netmarble Games do not even release their games on One Store at all.
On surface, their reasoning is that they want to focus on major markets. However it is heard that they actually want to have good relationships with Google.
Google has strong power over app markets. Cooperation is needed if a game developer want to enter global markets. From a game developer's perspective, it is burdensome to release a version for its country's app market and break up its sales.
"Looking at China where its Android app market is vitalized, competitions between platforms vitalize entire ecosystem." said CEO Lee Jae-hwan of One Store. "Influence being focused on single platform acts negatively on an ecosystem of South Korean games in long term."
"Google will start to request South Korea to increase its level of contribution once it starts to make more sales from South Korea." said Professor Wie Jung-hyeon of Jungang University's School of Business Administration. "It is necessary to build coexisting projects on entire ecosystems through reduction of polarization, promotion of personnel, and R&D support rather than just simply paying expenses."
Staff Reporter Kim, Siso | siso@etnews.com