There is going to be a stadium for League of Legends (LoL) in Jongno.
Riot Games held a 'presentation for construction and operation plan for LCK stadium' at Riot Games Auditorium, which is located on the 30th floor of Parnas Tower, on the 13th and announced such information.
Riot Games is going to lease some of the space of 'Gran Seoul', which is near Jonggak, to construct 'LCK Arena', which will be used as a stadium for LoL Champions Korea (LCK).
Because this area is near public transportations such as subway stations and bus stops, it has excellent accessibility. It also has high level of convenience for audience as it is near Gwanghwamun Gate, Cheonggyecheon Stream, various restaurants, and amenities.
Riot Games is also thinking about bringing in various facilities besides LCK Areana. Including an exhibition area that has traces of LCK and PC cafes, it is going to bring in cafes that sell food and beverages and set up an area for people who enjoy cosplay.
LoL Park will be about 1,600 pyeongs. Lease period will expire in 2029, and it will be open on September of 2018.
LCK Arena is a semicircular stadium. Its stage is located at the center and it is surrounded with 450 seats. Because it is based on a structure of an arena, both players and audience will be able to focus on games even more.
LCK Arena boasts a pleasant environment with room height of 8 meters and level of seats gets higher from the center to the edges so that people's views are not obstructed by the people sitting in front of them. Riot Games is planning to install a three-sided high-quality display screen at the top of LCK Arena's stage so that every audience can enjoy and watch game plays.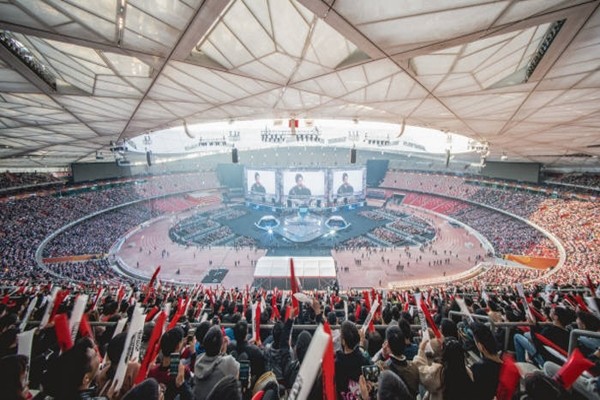 Riot Games increased 'intuitive' appeal of LCK Arena by preparing an indoor area where fans and players can have fan meetings.
The back side of LCK Arena is an area designated for players and LCK Arena representatives. Riot Games is going to set up lockers where players can store their personal belongings and PCs that are used for practice inside of player waiting rooms and it is planning to set up 'Mixed Zone' near entrance of LCK Arena's stage for media coverage of players.
"Many personnel has put in so much effort in order to put LCK at the top of the world." said CEO Lee Seung-hyeon of Riot Games Korea. "In order to provide suitable environment and experiences, Riot Games has considered many plans and LCK Arena is a result of those plans." Riot Games is currently operating LoL stadiums in China, Europe, North America, and Russia.
Riot Games is planning to produce its own broadcasting after 2018 LCK Summer Split and it is going to steadily prepare broadcasting equipment and hire professional broadcasting personnel in order to achieve its goal.
"Riot Games has invested about $26.8 million (30 billion KRW) since 2012 when LoL eSports was officially established." said CEO Lee. "We are going to continue to increase amount of investments so that LoL eSports can be closer to people."
Staff Reporter Kim, Siso | siso@etnews.com