Kakao Bank introduced its seven new digital strategies for upcoming fourth financial revolution. It announced that there will be financial markets with mobile-based digital channels at the center within next three years and that time of change is imminent to operate 'Fintech' and 'Techfin' together.
At 6th Smart Finance Conference held by The Electronic Times on the 9th, Kakao Bank introduced seven new digital channel strategies for fourth financial revolution. It also presented directions and visions for Kakao Bank to become an internet-only bank.
"As Kakao Bank was preparing for its products, an IT employee raised an objection against use of a password while making an installment savings account and a finance employee replied by saying that there might be regulations under banking laws." said CEO Yoon Ho-young of Kakao Bank who was a keynote speaker at this conference. "There were not any regulations on passwords after checking up on regulations. Kakao Bank decisively eliminated passwords on installment savings accounts."
CEO Yoon said that global financial industries are entering a period where new customer services need to be created and that banking services are also going to be mobile-only services within couple of years. Kakao Bank elaborated that it is also participating in this trend and established 'only mobile' strategies.
Seven digital finance strategies presented by Kakao Bank are unbundling (individual battle strategy), accessibility, communication, tech, UX (User Experience) and UI (User Interface), context, and mobile life.
CEO Yoon is certain that unbundling will become a trend for financial industries in the future.
CEO Yoon said that while Wells Fargo spent so much time on providing various platforms and technologies related to Fintech, a company that utilizes such services came up with a killer platform that surpasses Wells Fargo's services.
He explained that unbundling is becoming permanent as many companies are focusing on a certain area of finance and providing related services and that South Korean financial companies also need to specialize in certain technologies rather than looking to provide all technologies.
Kakao Bank had also gone through a process of reevaluating essence of its financial businesses and it defined its essence to be 'digital money container'.
CEO Yoon also chose accessibility as one of cores of digital strategies.
"Everything such as travel, purchasing, and entertainment is being brought into mobile devices." said CEO Yoon. "Competitive edge of a business will depend on how much accessibility of customers it can secure."
"When a person enters a keyword on a portal site, terminologies that are searched the most are shown at the top. What will be the words that come up first when entering terminologies such as 'Hana' and 'KB'?" asked CEO Yoon.
While most people may think it will be Hana Bank and KB Bank when entering 'Hana' and 'KB' respectively, words that came up first were actually Hana Tour and KB Insurance.
"This is the result of them being far more advanced in understanding customers' needs and having better marketing abilities." explained CEO Yoon.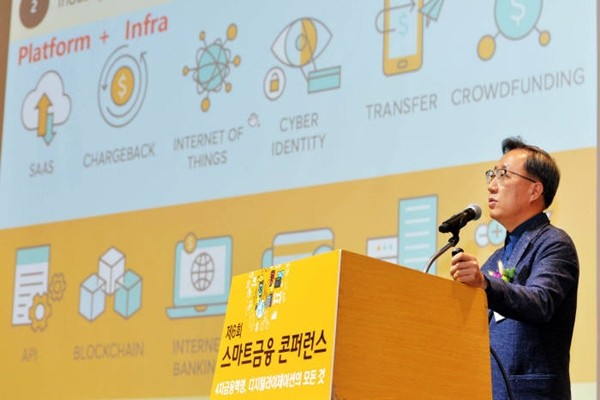 There is another example with Ping An Insurance from China.
Ping An Insurance recently acquired a healthcare company that specializes in medical examinations and introduced 'Insure Package' that suggests insurance products conversely by utilizing Big Data from results of comprehensive medical testing. This is a win-win strategy as customers can receive accurate care and insurance companies can reduce amount of risks. This is only possible as Ping An Insurance secured point of agreement with customers and accessibility in advance.
CEO Yoon also emphasized that communication strategies need to be established according to current trends.
"I attended an elementary school reunion recently, my alumnus started communicating through their Smartphones when a picture came up on a chatroom even though they were having face-to-face conversations." said CEO Yoon. "One of the reasons why Kakao Taxi was successful is because it satisfied a communication method of younger generations who tend to avoid talking on their phones."
He also made a sharp criticism towards traditional financial industries.
He pointed out that there needs to be a change in one's point of view towards technologies. He emphasized that IT is now the core of financial industries while saying that traditional financial companies still see IT as an expense.
He also emphasized importance of context.
"Just because service interfaces become more convenient and better, customers do not use those services blindly." said CEO Yoon. "One has to increase accessibility through ways that can put trust into customers and implement services through that context."
He also announced that Kakao Bank plans to enhance M-channel by embracing such digital strategies so that customers can use app to app payments, credit card businesses, and account movement systems easier and more conveniently.
"In order to commercialize services that are appropriate for mobile generations, we are going to make groups of Kakao Bank flattened through agile methods." said CEO Yoon.
Staff Reporter Gil, Jaeshik | osolgil@etnews.com