Generation of ultra-slim LCD TVs with thickness of 5mm is expected to arrive soon and this indicates that 'wallpaper TV' that is implemented through OLED TV will also be implemented through LCD TV as well. It is expected that competitions for ultra-slim premium TV design will become much more competitive starting from 2018 as TV manufacturers are targeting upward trend of demands for large LCD TVs that are 70 inches or bigger.
According to industries on the 6th, LG Display recently started mass-producing new LCD TV panels that use glass light guide plate instead of plastic light guide plate. Samsung Display developed a new quantum dot (QD) panel that coats QD material on top of glass light guide plate and is looking to secure customers.
Unlike OLED that does not need separate light source, LCD requires light source and many other parts which makes thickness of LCD TV thicker than that of OLED TV. LG Electronics' wallpaper OLED TV, which is based on a concept of TV that is thin like a wallpaper, has thickness of only 4mm. However thickness of normal LCD TV is between 10mm and 15mm.
If glass light guide plate is used for a LCD TV panel, its thickness can be drastically reduced. This helps LCD to catch up on strengths of OLED in premium markets where thinness and lightness need to be considered along with ultra-high quality and super-sized screen.
Light guide plate is a major part of back-light unit (BLU). In case of edge-lit LED LCD, LED light that is located next to a light guide plate goes through the light guide plate and is evenly distributed on the surface of a large display. Light guide plate allows light to be distributed evenly and brightly on a surface.
Light-guided materials often use transparent poly methyl meth acrylate (PMMA). PMMA does not break easily due to its high solidity and is very light and has excellent transparency and gloss as it has the lowest light absorptiveness out of polymers within an area of visible ray. However it can be distorted or stretched as it is weak against heat and humidity.
Width of bezel can be widened and an air gap can be formed in order to prevent these problems while designing a TV. However these solutions thicken BLU.
Glass was recognized as possible a new light guide plate material as it can withstand heat and humidity really well. However it was ultimately not chosen due to its lower gloss than other materials. Display glass manufacturers changed composition of glass and developed glass that is optimized for characteristics of light guide plate.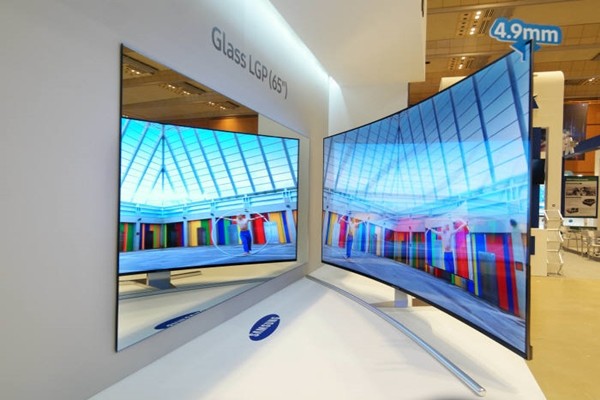 Asahi Glass developed glass light guide plate 'XCV' that is 20 times higher solidity than current light guide plates and heat strain rate and expansion due to humidity that are 8 times and 100 times lower than current light guide plates and has started supplying it to LG Display since this past July. Its thickness is only 1.8mm which makes it suitable for large TVs.
LG Display is planning to mass-produce super-sized and ultra-thin LCD panels by using Asahi Glass' XCV. These new LCD panels will have almost zero bezel and will be able to implement ultra-slim design and they will be suitable for premium LCD TVs.
Corning released glass light guide plate called 'Iris' in 2015 and introduced 70-inch 4K LCD module prototype after partnering up with Japan's SDP (Sakai Display Product). It explained that ultra-thin LCD TV with less than 5mm of thickness can be made by using Iris.
Samsung Display introduced 65-inch UHD super-slim curved LCD panel prototype with thickness of 4.9mm by applying Corning's Iris. Although it has yet to decide on potential customers, it started promotions since middle of this year starting with China.
In order to reduce thickness, Samsung Display coated QD material on top of glass light guide plate instead of using QD film. However this method has a disadvantage of using a barrier film that protects QD material from heat and humidity. In order to overcome this limitation, Samsung Display is planning to introduce a product with better color representation power and brightness and lower thickness by integrating color filter and QD into one.
It is expected that level of competitions for differentiated design in global premium TV markets will become even more competitive when South Korean businesses start to supply LCD panels that are applied with glass light guide plate.
Staff Reporter Bae, Okjin | withok@etnews.com