"We noticed more foreign tourists visiting our showroom. It turned out that the renowned German fashion magazine 'Highsnobiety' had introduced Mode-Man as one of the '15 of the Best Denim Stores on Earth.' I felt like my 10 years of hard work was being rewarded."
CEO Shin Dae-sung launched his denim select shop 'Mode-Man(en.mode-man.com)' in 2007 to introduce premium denim global brands to Korean consumers. The shop carries a total of 45 brands and has obtained exclusive distribution rights from Canada's 'Naked & Famous Denim,' U.S.' 'Rogue Territory,' Japan's 'FULLCOUNT' and 'Pure Blue Japan.'
Mode-Man specializes in raw denim. Raw denim is jeans that have skipped the pre-washing step in production. Although this gives the material stiffness comparable to regular jeans, the pair naturally fades and shifts to a custom fit for the owner with each wear.
The shop's most popular brand is 'Naked & Famous Denim,' which has become a sort of gateway brand for raw denim newbies because of its quality products at reasonable price points. The brand's 'Black Power Stretch' line is a steady-seller that surprised headquarters by selling up to 3,000 pairs in just a year. Stock purchases jumped from 2,650 USD(3 million KRW) to 265,000 USD(300 million KRW).
CEO Shin worked at a retail store in his early 20s. Here he saw that the store was receiving up to 300 online orders on a daily basis and grew certain that a boom in online business was approaching.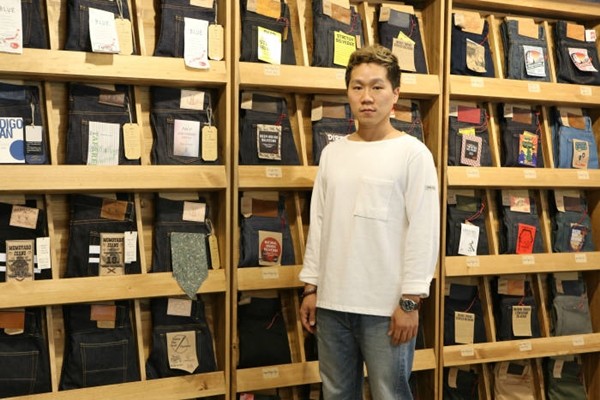 He quit his job and entered university to study E-Business. By the time he graduated, the Korean market was filled with online shopping malls raking in sales in the millions. CEO Shin knew he needed to find something different. His search for a unique business became the start of his denim select shop. He anticipated that Europe's budding craze for raw denim would surely make its way to the Korean market.
CEO Shin opened his online shopping site through global e-commerce platform, cafe24(www.cafe24corp.com/en), where a fan base for raw denim began to form. More and more customers requested to try on products offline. Soon, Mode-Man's offline showroom was opened so customers could experience the excellence of product design and quality firsthand. Most visiting customers are already aware of the Mode-Man brand. The showroom was recently relocated to Hongdae, the trendy youth culture hub of Seoul, in order increase customer accessibility. Since the change, offline sales have surpassed online sales for the first time.
Mode-Man's secret to success is in pricing. Unlike businesses who usually sell imported goods for 3 to 4 times profit, CEO Shin stuck to low profit and focused on providing goods at almost original selling prices.
In addition, CEO Shin educates his employees to do more than the bare minimum. Mode-Man's in-store customer service ensures that customers will receive all the help they need to find denim with the perfect fit. If the store doesn't carry the best fit, employees suggest other shops that have the same product in stock. Such honest and sincere approach significantly influenced customer satisfaction and trust.
CEO Shin said, "I hope customers form the idea that Mode-Man is the place to go to find the most satisfactory denim."
Going forward, CEO Shin plans to expand Mode-Man's reach into global markets. The brand is currently reviewing joint marketing opportunities with a global denim webzine and community, as well collaborating with a global denim brand.
Staff Reporter Yoon, Heeseok | pioneer@etnews.com