Signet EV finished going through on-site certifications for its commercial electric vehicle chargers and entered Japanese markets. Out of all South Korean and Japanese companies, Signet EV is the first one to enter commercial electric vehicle (truck, bus) markets followed by Japanese electric vehicle markets. Fact that it has worked with Japanese companies in grabbing upper hands of Japanese electric vehicle markets since the beginning was effective in securing upper hands in Japanese markets.
According to Japanese electric vehicle industries on the 26th, Signet EV started negotiating with the top Japanese commercial vehicle manufacturer and another Japanese commercial vehicle manufacturer about supplying its chargers for electric trucks and electric buses respectively. Signet EV introduced its rapid charger (120kWh) for the first time at a IZUSU's booth, which was set up at 'Tokyo Motor Show 2017' held on the 25th. It is the first time that a South Korean charger was displayed at an automotive manufacturer's booth set up at Tokyo Motor Show.
Signet EV recently finished developing super-fast chargers for commercial electric vehicles. While this charger is able to charge two electric vehicles at the same time, its operation efficiency is also excellent as amount of its output can be easily set up. This indicates that it is able to provide bigger amount of electric energy to a car that immediately needs charging when it is charging two cars at the same time. Also unlike 50kWh rapid chargers that are usually used for regular electric vehicles, it provides stable super-fast charging from 120kWh up to 350kWh.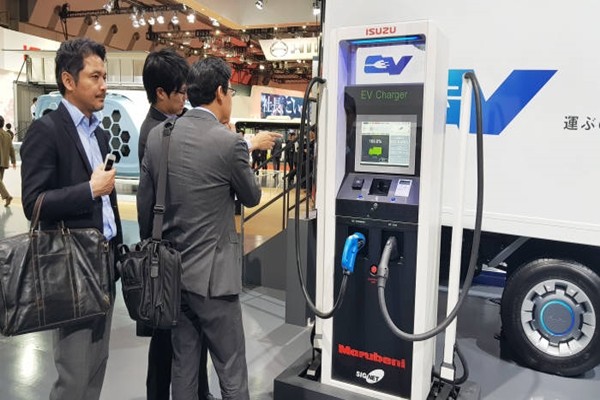 Because its charger is applied with high frequency switching algorithm and is modularized which makes parallel connection possible, it is advantageous in expanding capacity of its output depending on an environment where it is set up. Its size is only a third of its other products with same capacity and it is 20 to 30% cheaper compared to products of Signet EV's competitors.
After becoming the first one in the world to be certified of 'CHAdeMO revised version (Ver 1.2)', which is rapid charging standards for electric vehicles designated by CHAdeMO, past September, it has secured qualifications to enter Japanese markets.
"By expanding our business towards electric buses and electric trucks followed by electric vehicles in Japanese markets, we developed super-high output chargers that are optimized for commercial electric vehicles and released them in Japanese markets." said Department Head Lee Choong-ryeol of Signet EV's Charging Infrastructure Business Headquarters. "Although we are currently talking with global leading commercial vehicle manufacturers in Japan, we cannot discuss any detailed information since we have yet to sign on contracts."
Signet EV has been supplying its chargers to Nissan's U.S. and Japanese markets since 2012 through Marubeni Corporation. It recently discussed with Japanese automotive manufacturers such as Nissan and Honda about supplying its chargers and supplied more than 500 rapid chargers to Nissan (U.S.0 and Kia Motors (Europe).
Staff Reporter Park, Taejoon | gaius@etnews.com