Samsung Electronics is planning to target Smart Home Appliances markets by expanding portfolio of its IoT (Internet of Things) platform called 'ARTIK'. Its strategy is to actively respond to demands from industries that are trying to develop Smart Home Appliances by using ARTIK.
According to industries, Samsung Electronics is going to release its new IoT platform called 'ARTIK 051' in South Korea shortly.
"This new ARTIK is an IoT platform that can be applied to home appliances." said a representative for Samsung Electronics. "It is a product that can be used by regular consumers and companies."
Out of ARTIK 0, 5 7, and 10 series, ARTIK 051 belongs to 0 series which is the smallest out of the four. It seems that ARTIK 051 is a follow-up version of '053' that uses Wi-Fi communication followed by '020' and '030' that use Bluetooth and ZigBee communication respectively.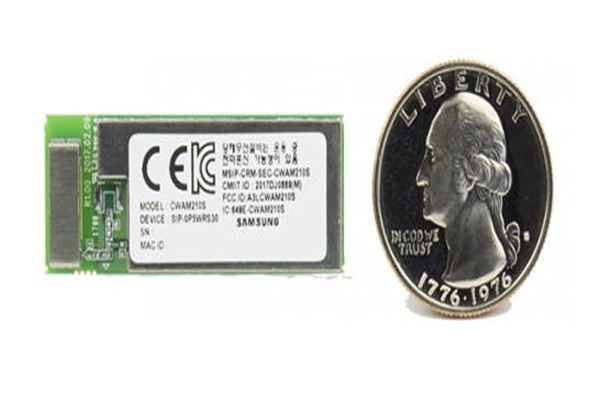 Industries are seeing that Samsung Electronics has developed this new ARTIK product while focusing on Wi-Fi that has emerged as a major communication technology for Smart Home Appliances. Including Samsung Electronics, many well-known home appliance manufacturers from South Korea and other countries are introducing Smart Home Appliances equipped with Wi-Fi function one after the other because Wi-Fi has high communication coverage and is efficient in sending data. Samsung Electronics' plan is to strengthen portfolio of ARTIK by releasing additional ARTIK product that supports Wi-Fi on top of its current lineup of ARTIK.
By releasing ARTIK 051, Samsung Electronics can respond to demands from Smart Home Appliances markets that are growing as South Korea's small and medium companies are also developing IoT home appliances one after the other. Companies such as Cuchen, Soosang ST, Coway, NUC, and SNC have recently developed new IoT home appliances by using ARTIK. When Samsung Electronics diversifies ARTIK products that can be applied to IoT home appliances, it will be able to develop products customized for certain markets. "ARTIK platform can implement entire areas of IoT from module, Cloud infrastructure, security, and to service application." said a representative for this industry. "There will be more home appliance manufacturers looking for ARTIK due to its convenience in development."
It is likely that portfolio of ARTIK will be expanded even more when Samsung Electronics' new ARTIK product, which is seen as the third generation of ARTIK, is released this month. Since 2015, Samsung Electronics has been upgrading its ARTIK products and releasing new ARTIK products every year. Third generation ARTIK is expected to be an important element of Samsung Electronics' strategy to apply AI (Artificial Intelligence) and IoT to its entire Smart Home Appliances.
Staff Reporter Kwon, Dongjoon | djkwon@etnews.com