"These shoes can be easily styled to fit any look while maintaining a distinctive luxuriousness found in designer labels."
SALONDEJU(shop2.salondeju.cafe24.com) is a handmade shoes brand for women that has been receiving much social media attention. The brand's classic yet modernistic designs that uniquely reflect the most recent trends have captivated customers in their mid-20s and 40s to 50s. CEO An Sung-ju's detailed brand strategy and design competitiveness have effectively garnered a global fan base and over half of the brand's sales are occurring outside Korea.
CEO An majored Visual Design at university but changed her career route when captivated by 'Shoes Drawing' and the design process. She soon launched her own brand with the determination to make shoes everyone would want to wear.
SALONDEJU is best known for its versatile shoe styles that go well with effortless daily looks while they can be dressed up to compliment more special outfits. All products' inner and outer materials are made of fine-quality natural leather. Main designs, materials, heels, and other features that make the products distinctively SALONDEJU have been patented to prevent counterfeits.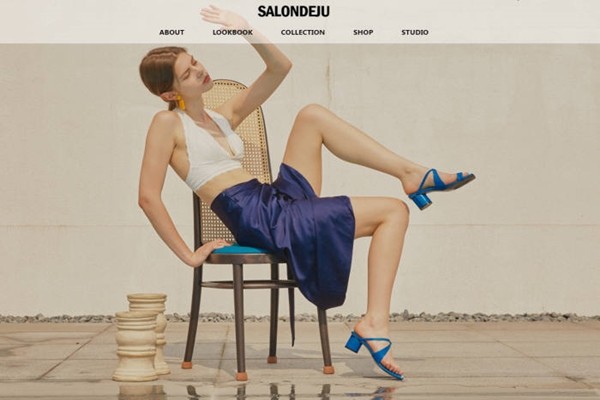 SALONDEJU's handmade products take up to two weeks from the point of order to delivery. Each piece is specifically made to satisfy customers' requests. Customers consider the waiting period as time needed for special care. Such brand loyalty caused this year's sales to jump 80% compared to the previous year.
CEO An said, "SALONDEJU has seen rapid growth enough to open an offline showroom in just a year since launching in 2014." She added, "The key strategy was emphasizing the different charms of high heel and mid heel designs."
Rapid growth pushed forward the brand's expansion into the global market. Buyers assessed SALONDEJU's products to surpass the design, quality, and cost-effectiveness of handmade shoes in Western markets.
Last year, SALONDEJU launched English and Chinese versions of its online shopping site through global e-commerce platform cafe24(www.cafe24corp.com/en). Particularly the 'Two Strap Slingback' shoes, with its feminine pointed toe and hexagonal column heel, became the best seller among American and Chinese customers.
CEO An plans to further accelerate SALONDEJU's reach in the global market. The brand will make an appearance in a fashion show in Paris next year. In long term, CEO An aspires to increase brand availability in more countries and nurture SALONDEJU to grow into a mega brand.
CEO An said, "A lot of overseas customers regard SALONDEJU shoes to be unique but wearable on a daily basis." She emphasized, "SALONDEJU will continue to work to gift customers with special sensibility for style."
Staff Reporter Yoon, Heeseok | pioneer@etnews.com