Hyundai Wia succeeded in developing its own e-LSD (electronic-Limited Slip Differential), which will be used for Hyundai Motor Company's i30N.
Hyundai Wia announced on the 27th that it finished developing e-LSD for high-performance cars and that it will be mass-producing it soon.
Production of its e-LSD will take place at its number three plant in Changwon and about 5,000 e-LSDs will be mass-produced annually. Hyundai Wia is the first South Korean business to mass-produce e-LSD, which is an important part that actively controls driving power that is sent to wheels depending on driving situations and increases level of stability in driving.
e-LSD divides power equally between left and right wheels during a normal drive and it is focused on one side of the wheels if the other side of the wheels is stuck in mud and needs to be taken out. Even when understeer (phenomenon where cars are pushed to outside during turning), which is a chronic problem that happens when front-wheel cars are making fast turns, occurs, e-LSD focuses power to the wheels that are placed outside of a car that is making a turn and helps a car to have a stable drive.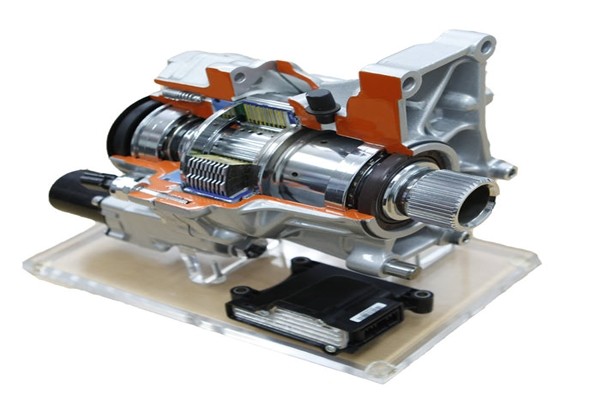 Hyundai Wia announced that 'response', which is the most important function of e-LSD, of its e-LSD is the best in the world. When there is a change to surface of a road or a driving condition, its e-LSD reacts in just 0.15 second and distributes optimum driving power to wheels. It is also very versatile as its maximum torque it can send to wheels is 142 kg.m, which is an amount that can be applied to many sedans and SUVs.
"We have developed our own e-LSD through know-hows that we have accumulated by making variety of powertrains such as AWD (All-Wheel Drive) systems and reducers for a long period of time." said Department Head (Director) Kim Hong-jib of Hyundai Wia's PT Development Team. "One will be able to experience best response and R&H."
Hyundai Wia is expecting to obtain contracts for powertrain parts globally by mass-producing e-LSD. It is planning to go after foreign automotive manufacturers by putting forth AWD products such as PTU (Power Transfer Units) and electronic coupling (front-wheel AWD system) and ATC (Active Transfer Case, rear-wheel AWD system) that are specialized as powertrain parts.
"By mass-producing e-LSD, we will be able to respond to powertrain systems of high-performance cars." said President Yoon Joon-mo of Hyundai Wia. "By maintaining best performance and quality in the world, we are going to continue to work hard to become a business with competitive edge in industries for automotive parts."
Staff Reporter Park, Sora | srpark@etnews.com