Kia Motors is planning to release its new compact car called 'RAY', which has gone through its first facelift since it was released in 2011, at the end of this year and to expand markets to foreign countries by enhancing safety of its new RAY.
According to industries on the 25th, Kia Motors recently finished developing new RAY and is going through final quality inspection process such as test-drive. RAY, which is the only box-type compact car by South Korean automotive manufacturers, is going to have its commercial value improved through changes in interior and exterior design.
Biggest change is the improvement in safety. Although its wide interior space is one of RAY's strengths, it was criticized for its lack of safety and high repair cost when accidents happen as it has small amount of areas in the front and the back that can absorb impact from collisions and is applied with sliding doors.
In order to increase level of safety in case of accidents, Kia Motors adjusted ratio of new RAY's car body by increasing the size of a front bumper and decreasing the size of a rear bumper within the standards for a compact car. Kia Motors also improved hardness and sense of stability in driving of new RAY by strengthening weak parts of RAY by welding or adhesives. Since 2013, Kia Motors has been devoting itself to improve safety of RAY by installing ROM (Roll Over Mitigation) as a standard specification.
Kia Motors is planning to prepare for foreign collision safety tests that are becoming more strict by enhancing safety of its new RAY. RAY has been sold only to domestic markets. However Kia Motors is actively looking into ways of exporting new RAY with enhanced safety to foreign markets such as Europe.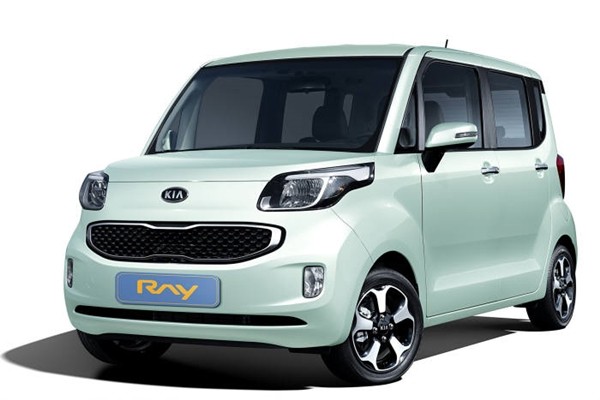 Kia Motors also slightly changed the design of new RAY. New RAY is going to have LED daytime running lights as its headlights. Radiator grills and fog lights will follow the family look of Kia Motors and will be refined. Kia is going to change the design of new RAY's alloy wheels and install surface emitting taillights. It is heard however that there are not any huge changes to the interior of new RAY.
New RAY's powertrain is same as Kia's new Morning. New Morning, which was released during first half of this year, is equipped with Kappa 1.0 liter eco prime gasoline engine that exhibits maximum power of 76 horsepower and maximum torque of 9.7kg.m and four-speed automatic transmission. Although maximum power of new Morning is 2 horsepower less than that of previous Morning, it has improved acceleration performance and improved feel in turning as its maximum torque is slightly higher. It is also expected that Kia Motors will release new Morning that is equipped with either a turbo gasoline engine or a LPi engine.
Industries are also paying their attention towards whether or not new RAY can revive South Korea's compact car markets that have shrank due to appearance of small SUVs that have high economic feasibility.
"New RAY will have drastically improved commercial value such as enhanced safety." said a representative for Kia Motors. "We have yet to decide internally when we are going to start selling new RAY."
Staff reporter Jung, Chiyeon | chiyeon@etnews.com