Dementia prevention cognitive training robot that was developed by a South Korean robot manufacturer is soon to be used throughout Europe. As effects of this dementia prevention robot, which was started in Denmark 5 years ago, was recognized of its results, a Denmark business is working to spread this robot throughout Europe.
ROBOCARE Co., Ltd. (CEO Kim Sung-kang) announced on the 24th that it signed off on an agreement with a Denmark healthcare business called MELVIN regarding an exclusive sales right of 'SILBOT', which is installed with a dementia prevention cognitive training program, in Europe.
MELVIN is a healthcare robot manufacturer and distributor in Demark. First of all, it is planning to supply 100 SILBOTs in Denmark. It already finished discussing with about 90 local government groups in Denmark regarding supply of SILBOTs. Based on this, MELVIN is expecting to expand supply of SILBOTs to entire Europe and eventually supply more than hundreds of SILBOTs annually.
SILBOT is a robot that improves cognitive ability of a person who is suffering from a mild cognitive disorder. It treats people with cognitive disorder and helps them with preventing dementia as patients who are suffering from early cognitive disorder, which is a previous stage of dementia, follow games that are suggested by SILBOT. It contains many games that people can follow whenever SILBOT moves a cross stripes board that is drawn inside of SILBOT. SILBOT is applied with contents that are developed by ROBOCARE and South Korean and foreign medical teams.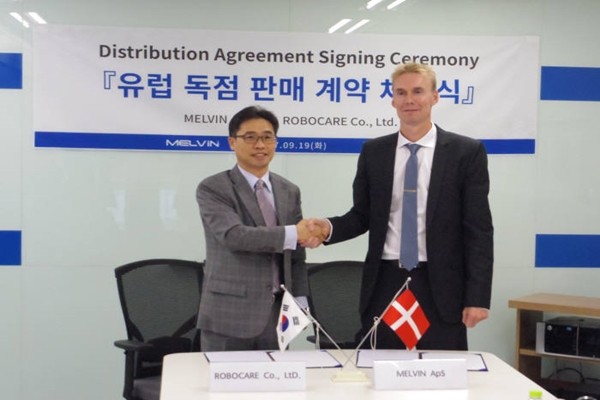 CEO Kim Sung-kang said that dementia prevention classes utilizing 'SILBOT' have been taking places at healthcare center located in Aarhus, Denmark since 5 years ago. According to reports sent by Aarhus regarding SILBOT, they said that it is more effective than dementia prevention programs done by people and it created more jobs by haring experts that know how to handle solutions given by SILBOT.
After being supplied to Denmark for the first time in 2011, SILBOT has gone through many versions. Classes that currently utilize version 3.0 are taking places at Samsung Noble County and dementia support centers in Gangnam.
"Dementia is a national problem. In case of Europe, percentage of people with dementia at age 65 or above is at 10% while it surpasses 50% with people who are at least 85 years old. Ambassador for Denmark also attended this signing ceremony." said CEO Kim.
"As effects of 'SILBOT', which has been utilized constantly in Aarhus for 5 years, were proven to be positive, our goal is now to spread SILBOT throughout Europe." said CEO Kim. It is also interesting to see if SILBOT leads to expansion of robot markets throughout Europe.
ROBOCARE is a company that was invested by KIST (Korea Institute of Science and Technology). It was established in 2012 after starting as a frontier business group in 2003. It recently released world's first dementia prevention robot, cocktail ice carving robot, and humanoid barista robot and has started marketing them on full-scale.
"Although we have 16 algorithms regarding our robots, we had had difficulties in selling them due to lack of contents." said CEO Kim. "We are going to build up our contents starting with SILBOT."
Staff Reporter Lee, Kyungmin | kmlee@etnews.com