Spelling(en.spelling.co.kr), an online specialty mall for street style, is quickly gaining its reputation as a gateway and nurturing hub for Korea's new designers wishing to grow their brands. It operates in the form of an online select shop and currently carries about 70 different Korean and global brands.
CEO Suh Hong-won is a well-known first generation trend leader in the select shop industry for street fashion. In 2008, he opened Spelling's first offline store in Hongdae, the trendy youth culture hub of Seoul. Soon after, Spelling's online store launched and boosted its brand recognition in Korea.
CEO Suh's strong passion in street style greatly influenced his brand's quality growth. Spelling experienced more than 20~30% surge in yearly sales which enabled it to carry multiple world-famous brands.
Street style brands from English-speaking countries like 'Carhartt WIP,' 'Champion,' and 'Design by TSS' are Spelling's star players. In the case of 'Design by TTS,' CEO Suh acquired the partnership from meeting a representative at a street fashion exhibition in America. Such Spelling-driven inflow was widely welcomed by Korean consumers who previously had very limited access to brands from the street style motherland.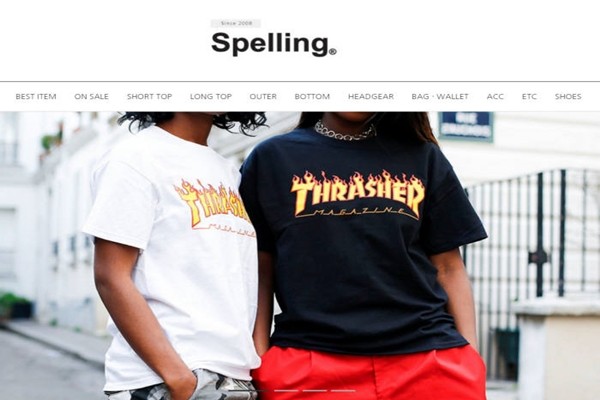 Korean brands like 'KILLBEROS' and 'BANKTWOBROTHERS' are showing noticeable competitiveness by drawing as much customer demand as renowned global brands. CEO Suh explained that such popularity results from each brand's designs that display the creator's distinct sense of style.
CEO Suh said, "Spelling employees conduct meticulous evaluations of brands wishing to join our select shop." He emphasized, "Brands with acute abilities to reflect changing trends and survive long term are preferred."
In the beginning of this year, Spelling launched its global online shopping site in English through global e-commerce platform, cafe24(www.cafe24corp.com/en). The move was only natural as it was already receiving plenty of purchase inquiries from overseas customers. Expansion into Asian markets like China and Japan is also being considered.
Meanwhile, CEO Suh has been busy visiting numerous exhibitions overseas to keep in tune with the latest street style trends. He sees all interactions with brand owners and designers around the globe to be valuable. Also, he is constantly searching to further diversify the brands within Spelling to enhance the customer brand experience. Expectations are growing along with the customer base of key target 10~20 year olds and increasing number of 30~40 year olds.
CEO Suh said, "In the long term we are planning to make a nonprofit community space for street style enthusiasts." He added, "Spelling will continue to uphold its brand identity of sharing global street style knowledge with customers."
Staff Reporter Yoon, Heeseok | pioneer@etnews.com