Lotte and IBM are going to introduce an AI (Artificial Intelligence) shopping advisor that is specialized to Korean.
Lotte is focusing on providing new level of convenience for shoppers through AI technologies. On the other hand, IBM is looking to secure AI solutions that are specialized for distribution through its project with Lotte.
According to Lotte Department Store on the 11th, AI task force is currently developing 'AI shopping advisor', which utilizes 'Watson' solution, in order to introduce it by end of this year. It is going to first introduce PC and mobile versions to online customers of El Lotte Department Store. It is then going to officially release this advisor in January of 2018 after going through a month of beta service period.
IBM's AI platform called 'Watson' recently increased its ability to understand Korean. It has developed to a level that provides desirable answers as it includes 8 APIs (Application Programming Interface) such as understanding of natural language, communication, analysis of image and feeling, and translation and understands one's intention for uttering.
Lotte Department Store, which has established a task force with IBM and is developing world's first 'shopping advisor', is not going to just develop this advisor but it is also focusing on providing a service that is able to communicate directly with customers by having a command of natural language.
This project is seen as one of the important projects established by Chairman Shin Dong-bin of Lotte Group in order to prepare for Industry 4.0. Lotte's approach is to grab upper hands in future distribution trends through AI.
Task force is focusing on upgrading most important data in order to establish an AI system. Not only is the task force going to accumulate enormous amount of data on customers but it is also going to collect data from products and trends and digitalize them. Its goal is to use digitalized data for general marketing as well as personalized marketing.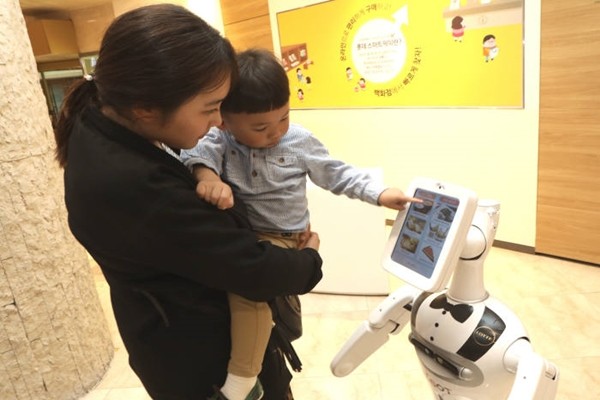 "We are collecting and upgrading enormous amount of data in order to establish an AI system." said Kim Geun-soo who is the team leader of Lotte Department Store's AI Team. "We are going to apply data that is created from guidance services to individual marketing."
Lotte Department Store's AI system focuses on responding to customers by using 'natural language' that people use in their daily lives. Types of customers and words that they use continue to change over time. AI system is going to develop on its own and increase level of its services according to current trends.
Although 'Aibril' introduced Korean services, Lotte Department Store is not going to stick to just Aibril and is working on making developments in order to establish an environment and understanding structures and characteristics of Korean that is suitable for distribution industries.
The task force analyzed languages that 'shop masters', who directly greet and answer questions from customers at department stores, use and spent its efforts to communicate with them. For example, AI shopping advisor will be able to understand meaning of words such as 'Oh my gosh' depending on a person and a situation. AI shopping advisor will also be able to understand normal jokes and industrial terms as well as simple greeting. Its long-term goal is to connect AI shopping advisor with a system that provides personalized services that understand psychology of a customer and consider changes in body types.
Lotte is also planning to carry out a competition between a shop master and an AI shopping advisor in order to see who can recommend better products as part of an event. This is a similar concept as the battle between 'Lee Sae-dol' and 'Alpha Go'. Although most predict that a shop master is going to win, Lotte will be able to increase level of interest from consumers and carry out new tests on technologies.
"We are going to introduce world's first true AI 'shopping advisor' and we are planning to continue to develop this advisor in the future." said Team Leader Kim Geun-soo.
Staff Reporter Lee, Joohyeon | jhjh13@etnews.com