It is expected that LG Display will be able to increase both of its sales and profits at the same time due to increase in number of output of its 8th generation OLEDs. SONY and Panasonic are ordering more products from LG Display this year than the year before while Chinese TV manufacturers are also thinking about releasing OLED TVs as their premium products. In order to maximize profitability, LG Display is planning to maintain high selling price. LG Display is looking to maximize its position as the only supplier in the world that manufactures large OLED panels.
According to industries on the 10th, LG Display started operating second stage of investment for E4 line, which produces 8th generation OLEDs, in third quarter of this year. It seems that LG Display is going to fully operate E4 line starting from fourth quarter of this year after going through an initial operation in third quarter.
Before fully operating E4 line, LG Display is negotiating with Japanese, Chinese, and European TV manufacturers regarding amount of supplies of its large OLED panels. It is heard that LG Display, which supplies the panels, has the upper hand in these negotiations rather than the TV manufacturers. While LG Electronics struggled in the past to expand OLED TV markets, mood around markets has totally changed as SONY's 'Bravia A1E', which combines speakers to a display panel, is receiving positive reviews.
It is heard that Toshiba is also very active in releasing its OLED TVs. It is found out that SONY requested double the amount of an initial amount of supplies that it requested from LG Display and Toshiba also requested significant amount of supplies of OLEDs from LG Display. SONY and Toshiba recently introduced their OLED TVs at IFA 2017 that was held in Germany.
Chinese TV manufacturers are also showing their desires in securing OLED panels. While LG Display in the past emphasized high resolution as the biggest strength of OLED TV, now it is emphasizing innovative design such as CSO (Crystal Sound OLED) that combines speakers with a panel and wallpaper TV that can be attached onto walls as the biggest strength of OLED TV.
Because most of Chinese TV manufacturers had poor performance during first half of this year, it has become much more important for them to release products that will stand out in markets for premium TVs.
"Because Chinese TV manufacturers do not really have premium products and could not induce demands from consumers, most of them had poor performance during first half of this year." said a representative in this industry. There was lack of supplies of panels for OLED TVs and QD (Quantum Dot) TVs from Chinese TV manufacturers fell to mid-tier markets after losing to Samsung Electronics in North American and European markets.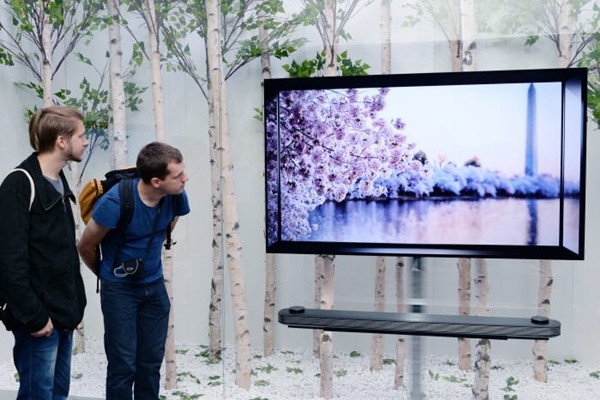 As SONY joined OLED TV markets, competitions between TV manufacturers that are looking to participate in competitions for OLED TVs in next year have become fiercer.
LG Display, which does not have any competitions, has wider selections now. When second stage of investment for E4 line starts operating fully, monthly output will be more than 50,000 panels by first half of next year after adding 26,000 panels from first stage of investment. It seems that LG Display will be able to secure about 70,000 panels of production capacity by end of next year when it carries out the third stage of investment and operates that part of investment starting from third quarter of next year.
Even if production capacity increases, there is a chance that an amount of increase for an amount of supply of panels will not be big due to an increase in number of demands for 65-inch panels. Although six 55-inch panels can be made from single 8th generation mother glass, only three 65-inch panels can be made from single 8th generation mother glass. This indicates that actual output will be short of this level even if its production capacity doubles from second quarter of this year to second quarter of next year.
LG Display is estimating that number of OLED TV panels it produces will increase from 900,000 in 2016 to 1.7 million in this year. Its goal for 2018 is 2.5 million OLED TV panels.
Because the situation is like this, LG Display is very relaxed in negotiating with TV manufacturers. Although production cost temporarily increases when part of additional investment is operated for the first time, LG Display can provide its panels at a lower price considering the fact that its overall yield increased and that its production capacity increased. However because supply is limited and there are a lot of demands for its OLED panels, there is no reason for it to lower marketing price. Even if it sticks to high marketing price, LG Display has the upper hands in these negotiations.
"Because Chinese TV manufacturers failed in their premium strategies this year, they have to consider ways to expand their OLED TV businesses." said a representative. "LG Display, which is the only OLED TV panel manufacturer in the world, can change directions of its supplies to its advantage."
Staff Reporter Bae, Okjin | withok@etnews.com