LG Electronics is going to work with Google in order to target North American markets with its Smart Home Appliance products and is going to emphasize Smart Home ecosystem that connects 'LG Electronics' home appliances with Google's AI (Artificial Intelligence' assistant. Alliance between LG Electronics and Google is spreading towards home appliance products now.
According to industries on the 10th, LG Electronics is going to push for co-promotion with Google in the U.S. starting from this month. If a person purchases LG Electronics' home appliance product that can use Google's AI service called 'Google Assistant', 'Google Home' is provided for free. Google Home, which is an AI speaker, is utilized as a hub that controls and manages each home appliance product through voice. Sales and distribution of LG Electronics' home appliance products are in charge by Best Buy. Duration of this promotion is going to last until the 9th of October, which is Columbus Day.
Reason why LG Electronics is joining hands with Google is because it is planning to grow 'Smart Home' ecosystem that is applied with AI and IoT (Internet of Things) technologies. As level of interests towards Smart Home that can connect home appliances and control them through voice has risen recently, LG Electronics is looking to responding towards those interests in advance. LG Electronics, which is pushing its Smart Home strategy, will be able to grow its business even more by joining hands with Google.
For example, a consumer that purchases LG Electronics' AI air conditioner or a washing machine can receive Google Home for free. From Google's perspective, this increases market shares of its AI assistant and accumulates variety of data that are used. On the other hand, LG Electronics has a chance to fully utilize high-tech home appliance functions such as AI and IoT.. Its Smart Home business can gain momentum as more people use its products.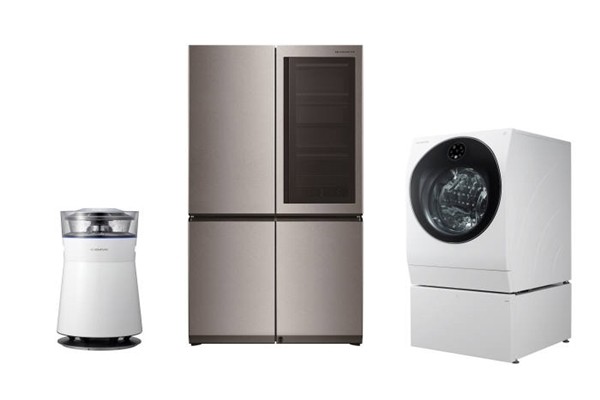 "It is heard that only 20% of entire buyers actively uses Smart Home Appliances that are applied with AI and IoT technologies." said a representative for LG Electronics. "It is more advantageous for us to spread Smart Home ecosystem as number of users that actively uses AI technologies such as voice recognition increases."
LG Electronics demonstrated Smart Home Appliances that are linked to Google Home at 'Google I/O 2017' that was held in the U.S. in May. At that time, it demonstrated its LG Signature humidifying air purifier operating automatically through Google Home by saying "turn on the air purifier' to Google Home.
"There are a lot of demands for voice recognition services in the U.S. markets." said a representative in this industry. "This is why businesses that are related to Smart Home products that are applied with AI technologies are targeting the U.S. markets first."
As Google Assistant recently started supporting Korean, it seems that an alliance between LG Electronics and Google will spread to South Korean markets as well. LG Electronics showed that Google Assistant is supporting Korean when it released its strategic Smartphone called V30. Although Korean service is only limited to Smartphone as of now, majority of industries believe that it won't be long before Korean service will be expanded to Smart Home Appliances as well.
LG Electronics decided to incorporate Wi-Fi function to all of its new home appliance products that will be released in the future. Its plan is to solidify groundwork that will enable LG Electronics to secure 'connectivity' before Smart Home takes its roots in markets. It is also going to work with Amazon as well in order to spread Smart Home ecosystem as soon as possible. LG Electronics' Smart Home Appliances will be interworked with Amazon's Alexa as well.
Staff Reporter Kwon, Dongjoon | djkwon@etnews.com