SK Telecom introduced a technology that can control ten major functions of Smartphone's navigation system through one's voice. It is possible now to use technologies that were only available for speakers at homes while driving. It also announced its plan to make its AI (Artificial Intelligence) voice recognition technology into a platform by introducing it globally.
SK Telecom Combines T Map with AI Platform Called 'NUGU'
SK Telecom introduced 'T Map X NUGU', which combines T Map and AI platform called 'NUGU' on the 7th. This technology allows one to control navigation through his or her voice with an addition of AI voice recognition function. It is expected that this technology will help in lowering number of accidents from using a navigation system while driving and improving safety.
Users can either select or change their destinations through their voice while they are driving and can also be notified of gas stations with lowest price. They can also control volume through their voice or hear news briefing, information of traffic, and directions. This technology also provides ten functions such as music listening.
Through an update in November, SK Telecom is going to add a voice control function such as texting 'I am driving' when someone calls while T Map is being used.
SK Telecom introduced that voice recognition rate of T Map X NUGU is about 96%. However it needs to improve success rate of voice recognition from going down to 92% when a car is driving under 40km/h with windows closed or driving at least 80km/h or more. On this day, SK Telecom demonstrated functions such as selection of destination, navigation for gas stations, and playing of music through voice only and without any problems within an actual road environment.
SK Telecom is expecting that voice recognition rate will increase as number of T Map users increases. It explained that performance will improve as amount of data that can be learned increases from AI. Currently there are about 10.14 million T Map users in a month after SK Telecom opened T Map to members of other mobile network providers in July of 2016.
T Map X NUGU can be downloaded for free from One Store regardless of a mobile network provider and from Google Play Store starting from the 15th. One will be able to download it from an iPhone starting from October.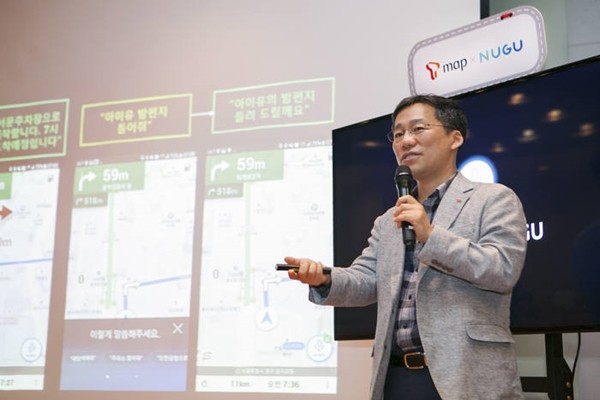 SK Telecom to Make T Map X NUGU as an Open Platform
Release of T Map X NUGU is special from a perspective that AI voice recognition technology has become a 'platform'.
T Map X NUGU has prepared opportunities to expand an area of application of voice recognition technologies. SK Telecom has decided to expand areas of application of NUGU through Kids Phone and SK Broadband AI IPTV (B tv) in October and December respectively.
SK Telecom is planning to introduce NUGU as an 'open platform' in 2018 so that other businesses can also use NUGU as well. By doing so, home appliance products and Smartphone applications from other businesses can also be applied with NUGU.
Fact that speed of reactions of markets has become noticeably faster by quickly carrying out a reorganization at the end of March of this year and establishing a new 'AI Business Group, which is under direct control of CEO, is encouraging for SK Telecom.
New technologies such as addition of shopping function, new establishment of financial functions, release of NUGU Mini, and release of T Map X NUGU that are related to NUGU were released one after the other within just five months from establishment of AI Business Group.
While Amazon's Echo and Google's Google Home are leading global markets, fast response towards markets is important more than anything in South Korean markets as telecommunication and portal companies such as KT, LG Uplus, Naver and Kakao are competing against each other for pride.
"T Map X NUGU will be a bridgehead for development of living in a car." said Lee Sang Ho who is the head of SK Telecom's AI Business Group. "We are going to connect NUGU with other areas of daily lives such as home and leisure."
Staff Reporter Kim, Yongjoo | kyj@etnews.com