eBay Korea and KT have joined hands to target AI (Artificial Intelligence) shopping markets. They are going to create an environment where people can easily order products through voice commands by applying G Market, Auction, and G9 Shopping service to KT's AI speaker called 'GiGA Genie'. Major online shopping businesses are joining hands with mobile network providers one after the other in order to target AI commerce on full-scale.
eBay Korea exchanged a MOU (Memorandum of Understanding) with KT on the 31st in order to develop new businesses and to push for co-marketing. Both businesses have agreed to develop services that are applied with ICT (Information Communication Technology) and online shopping and to find new sources of profits.
eBay Korea is planning to actively applying KT's IoT (Internet of Things) technologies to shopping services and is planning to establish a new shopping environment by linking G Market, Auction, and shopping database from G9 with GiGA Genie.
It seems that eBay Korea and KT are going to implement a function that is similar to an audio order function that was introduced by SK Planet 11th Street through SK Telecom's AI speaker called 'Nugu'. This function allows one to purchase recommended products or products that are ordered often after setting up shopping account and payment information through an AI speaker in advance.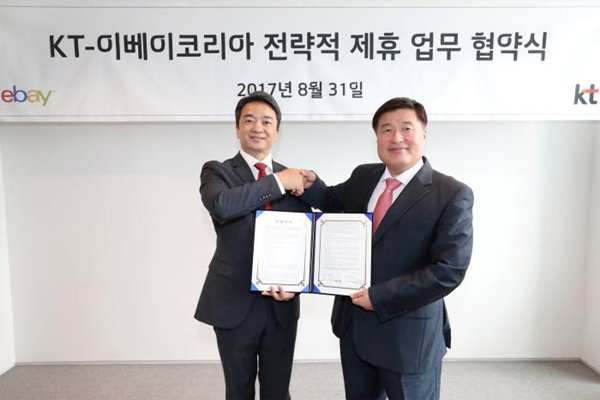 eBay Korea drastically increased accessibility of shopping channels by joining hands with KT as a member of eBay Korea who owns a GiGA Genie will be able to purchase variety of products without logging into a web or accessing a mobile application. It is expected that people will also be able to check delivery status and history of purchase during a certain period in real-time. GiGA Genie will also be able to introduce recommended products through sound.
Through this partnership, KT now can sell wired and wireless telecommunication products through distribution channels owned by eBay Korea. KT is planning to introduce online promotions to tens of millions of people secured by G Market, Auction, and G9 and is also going to carry out co-marketing such as membership services and B2B advertisements. For example, co-promotion will also be possible as one will be able to receive discounts from G Market by using KT's membership service.
It seems that partnerships between online shopping businesses and mobile network providers will continue to take place in the future as their interests coincide when online shopping businesses want to expand their businesses through new distribution channels besides PCs and mobile devices while mobile network providers want to expand their sources of profits towards shopping markets. This is why eBay Korea and KT and 11th Street and SK Telecom have joined forces in AI shopping markets.
"Leaders in commerce and telecommunication industries are going to maximize level of convenience for their customers." said President Byun Kwang-yoon of eBay Korea. "E-commerce database accumulated by eBay Korea and KT's high technical skills are going to open a new commerce generation in the future."
Staff Reporter Yoon, Heeseok | pioneer@etnews.com